Media contact(s)
Chris Serico
908-227-8097
Partnership aims to advance digital equity in region through $50K Verizon Forward Community Enhancement Award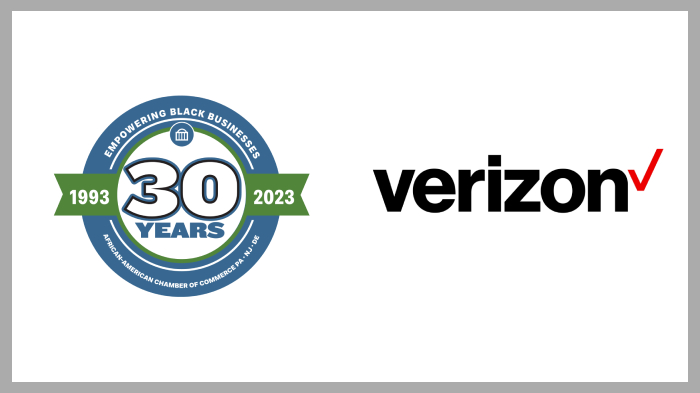 PHILADELPHIA, PA – Verizon has announced a $50,000 award to the African-American Chamber of Commerce of PA, NJ & DE (AACC) and the Greater Philadelphia Hispanic Chamber of Commerce (GPHCC) in Philadelphia. The partnership is part of the Verizon Forward Community Enhancement Award, a $1 million national initiative equipping communities with the tools to navigate an increasingly digital world.
Together, the AACC and the GPHCC will run a six-month program for small business owners in Philadelphia. The sessions will be designed to teach participants how to leverage technology to grow and thrive. Program topics will range from entrepreneurship and AI to cybersecurity.
Philadelphia's Black and Latinx entrepreneurs and small-business owners face greater challenges accessing financing, training, and growth opportunities compared to their white counterparts.
The AACC and the GPHCC believe that access to technology-focused training strengthens the capacity of Philadelphia small businesses to grow and succeed.
The Community Enhancement Award furthers Verizon's support of economic, environmental, and social advancement.
"At Verizon we believe that small businesses are essential for fostering economic growth, community cohesion and cultural pride," said Tony Lewis, Vice President of Public Policy for Verizon. "Through our Citizen Verizon responsible business plan, we have a goal of supporting 1 million small businesses with the resources they need to thrive in the digital economy. We are committed to listening to and meeting communities where they are by partnering with innovative organizations to deliver the tools and skills that can drive meaningful change for businesses and help them succeed."
"Digital equity is more than having access to technology and broadband, it's being able to use technology proficiently. In Philadelphia, 2.5 percent of Black-owned businesses are employer firms, meaning many are micro businesses," said Regina A. Hairston, President & CEO African-American Chamber of Commerce of PA, NJ & DE. "This grant is essential in helping to build the capacity and potential of small businesses by providing them the tools and resources necessary to create a solid digital infrastructure. Being able to deploy technology efficiently can lead to increased productivity, revenue, and eventually create more jobs."
As part of its responsible business initiative Citizen Verizon, Verizon has a goal to help support 1 million small businesses succeed in the digital economy by 2030. To learn more about Verizon's Small Business Digital Ready program, Digital Inclusion efforts, visit verizon.com/digitalready.CitizenVerizon.com.
PR Archives: Latest, By Company, By Date