100 Gigabit Waves of High Capacity Connectivity on America Europe Connect-1 Provides Low Latency Route That Is Diverse From Company's Existing Transatlantic Circuits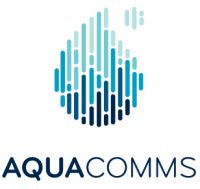 DUBLIN – MARCH 20, 2018 –  Aqua Comms DAC ("Aqua Comms"), the operator of Ireland's first dedicated subsea fibre-optic network interconnecting New York, Dublin and London, announces today that Hurricane Electric has activated one 100 Gigabit waves of high capacity connectivity between New York and Dublin on Aqua Comms' America Europe Connect-1 (AEC-1) subsea cable system.  The provisioning of secure and reliable capacity on Aqua Comms' next-generation undersea network will improve the speed, performance and resiliency of Hurricane Electric's global Internet backbone, and consequently all its IP Transit customers' networks.
"Aqua Comms' America Europe Connect-1 subsea cable system provides an important link between several of the world's most vital social and economic hubs," states Nigel Bayliff, Chief Executive Officer, Aqua Comms. "We are pleased that Hurricane Electric has selected AEC-1 to provide 100G waves service. This high capacity connectivity will deliver essential transport on a low latency route from New York to Dublin, onward to Manchester and Amsterdam, and mainland Europe, which is diverse from its existing transatlantic circuits to London and Paris."
Aqua Comms' subsea fibre-optic network is designed to meet the needs of carriers, global service providers, cloud-based networks, financial services companies, and Over-the-Top (OTT) content providers, as well as the global media. The high capacity transatlantic route includes diverse terrestrial segments on both ends, enabling Hurricane Electric to provision end-to-end high capacity connectivity without regeneration, utilising advanced modulation techniques.
"Hurricane Electric selected America Europe Connect-1 based on the reliability and diversity of its route, our confidence in Aqua Comms as a supplier, and the creative commercial package it developed to optimally solve our business objectives," comments Mike Leber, President, Hurricane Electric. "Not only will Aqua Comms' 100 Gigabit optical wavelengths service improve the performance and resiliency of our global Internet backbone, but the networks of Hurricane Electric's IP Transit customers will also ultimately benefit."
To learn more about Aqua Comms, visit www.aquacomms.com.
For more information about Hurricane Electric, visit www.he.net.
# # #
About Aqua Comms DAC
Aqua Comms DAC is an Irish Carriers' Carrier specialising in building and operating submarine cable systems and supplying fibre pairs, spectrum and capacity networking solutions to the global media, content and carrier markets.  It is the owner/operator of America Europe Connect-1 (AEC-1) and CeltixConnect-1 and continues to build on its vision of efficient submarine infrastructure ownership with membership of the HAVFRUE consortium and development of CeltixConnect-2 and North Sea Connect, bridging the Northern Atlantic between North America and Northern Europe. To learn more about Aqua Comms and its portfolio of subsea cable systems visit www.aquacomms.com.
About Hurricane Electric
Fremont, California-based Hurricane Electric operates its own global IPv4 and IPv6 network and is considered the largest IPv6 backbone in the world as measured by number of networks connected. Within its global network, Hurricane Electric is connected to 180 major exchange points and exchanges traffic directly with more than 7,000 different networks. Employing a resilient fiber-optic topology, Hurricane Electric has no less than five redundant 100G paths crossing North America, four separate 100G paths between the U.S. and Europe, and 100G rings in Europe and Asia. Hurricane also has a ring around Africa, and a PoP in Australia.
In addition to its vast global network, Hurricane Electric owns and operates two data centres in Fremont, California, including Fremont 2, its newest 208,000 square foot facility. Hurricane Electric offers IPv4 and IPv6 transit solutions over the same connection at speeds including 10 Gbps and 100 Gbps Ethernet.
For more information on Hurricane Electric, please visit www.he.net.
Media Contacts:
iMiller Public Relations for Aqua Comms DAC
Tel: +1 866 307 2510
Milldam Public Relations
Adam Waitkunas, 978-828-8304 (mobile)
PR Archives: Latest, By Company, By Date