Media contact(s)
Chris Serico
908-227-8097
Partnership aims to advance digital equity in region through $100K Verizon Forward Community Enhancement Award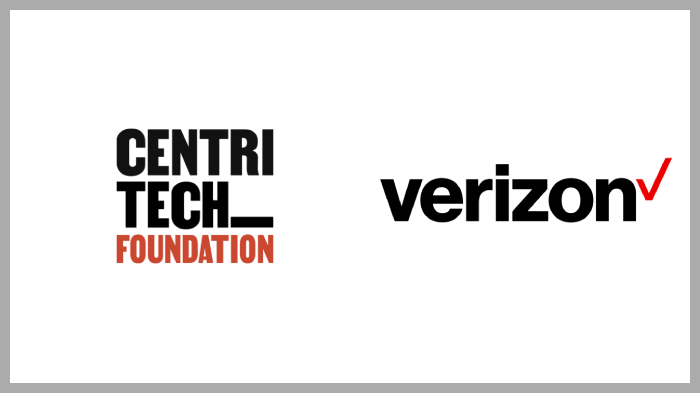 WASHINGTON, D.C. – Verizon has announced a partnership with the Centri Tech Foundation to create The Community Skills Connect Pilot, a new initiative that will deliver digital workforce skills training, information and resources to approximately 8,200 low-income residents in collaboration with national and local partners and community organizations.
As part of the partnership, Verizon awarded a $100,000 grant to the Centri Tech Foundation (CTF) to support the pilot program in Washington D.C., Philadelphia and Baltimore. This effort is in support of the Verizon Forward Community Enhancement Award, a $1 million national initiative equipping communities with the tools to navigate an increasingly technological world.
Working with grassroots organizations, the program will support residents in each city as they navigate education and workforce opportunities, healthcare, government services, social activities and/or other essential needs.
The purpose of the program is to demonstrate technology's potential to 1) drive social impact in historically underserved communities and 2) increase economic and educational opportunities through the enhancement of skills for underserved people.
Verizon is proud to be a partner in launching the The Community Skills Connect program.
"The Community Enhancement Award reflects Verizon's commitment to advancing digital literacy and inclusion in the communities we serve," said Tony Lewis, Vice President of Public Policy for Verizon. "We are committed to listening to and meeting communities where they are by partnering with innovative organizations, such as Centri Tech Foundation, to ensure communities have the digital skills and tools they need to thrive in a rapidly evolving digital economy."
"We are honored to join Verizon in this critical initiative to drive social impact and increase economic mobility for communities in Washington, D.C., Baltimore and Philadelphia," said Marta Urquilla, president of the Centri Tech Foundation. "We look forward to collaborating with our partners on the ground in these cities to innovate and deliver new models for digital workforce skills training to help residents connect to the digital economy."
Verizon is committed to preparing 500K individuals for the jobs of the future by 2030. To learn more about Verizon's Digital Inclusion efforts, visit CitizenVerizon.com. To learn more about Verizon's Digital Inclusion efforts, visit CitizenVerizon.com.
PR Archives: Latest, By Company, By Date