9/15/2023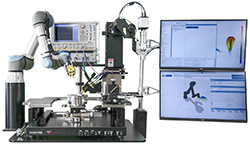 Berlin, Germany– September 15, 2023 – Anritsu Company, in partnership with MPI and ATV, will be showcasing state-of-the-art 6G Antenna in Package (AiP) measurements at EuMW 2023 in Berlin. The solution comprises a VectorStar™ VNA that sweeps from 70 kHz to 220 GHz with patented NLTL technology-based millimeter-wave (mmWave) extenders. The mmWave extenders convert up/down signals to 220 GHz and are so small that they can be easily mounted on a robotic arm that performs a scan around the AiP in a pre-programmed, high-resolution step yielding accurate antenna radiation pattern measurements at D and G band frequencies. The robotic arm and the probe station are provided by MPI and ATV systems who excel in their respective domains of probe stations/probes and measurement automation expertise.
The AiP can be probed/fed from either the side of the antenna, which can be placed on a glass substrate or any other material, or it can be probed from the bottom so that the probing does not interfere with the radiation of the antenna. The special Titan™ Probes used for probing the AiP is connected to the VectorStar mmWave modules. They can be single ended or differential depending upon the application.
Please visit MPI's Booth 104A where this unique solution will be displayed.
About MPI Corporation
MPI Corporation, a Taiwanese company with 19 years in the semiconductor testing industry, has been at the forefront of probing technology. For this collaboration, MPI provided its state-of-the-art, high-precision probe station designed specifically for high-frequency and complex testing scenarios like the 6G AiP. MPI's probe stations are integral to achieving accurate and reliable mmWave measurements, making them a go-to choice for companies looking to excel in next-level semiconductor testing.
To learn more visit https://www.mpi-corporation.com/ast/
About ATV Systems
AutomatisierungsTechnik Voigt GmbH was founded in 2000 and is a medium-sized company based in Dresden, Germany. For more than 20 years ATV provides innovative automation solutions for measurements-, tests- and control technologies in industry, research and development. ATV has established itself as a successful partner of the industrial semiconductor manufacturing. By using of instruments from well-known partners, we create customer-specific system solutions on wafer and for packaged components. We provide tailor-made and complete solutions with innovatively developed software and hardware to industry and research partners.
For more information please visit: http://www.atv-systems.de/en
About Anritsu
Anritsu is a provider of innovative communications test and measurement solutions. Anritsu engages customers as true partners to help develop wireless, optical, microwave/RF, and digital solutions for R&D, manufacturing, installation, and maintenance applications, as well as multidimensional service assurance solutions for network monitoring and optimization. Anritsu also provides precision microwave/RF components, optical devices, and high-speed electrical devices for communication products and systems. The company develops advanced solutions for emerging and legacy wireline and wireless technologies used in commercial, private, military/aerospace, government, and other markets.
To learn more visit www.anritsu.com and follow Anritsu on Facebook, LinkedIn, Twitter, and YouTube.
Anritsu Contact:
Stacy Escobar
Anritsu Company
stacy.escobar(ATMARK)anritsu.com
408.201.1966
PR Archives: Latest, By Company, By Date