| | |
| --- | --- |
| Signal Generator Family's Groundbreaking Performance Recognized as Superb Innovation with Groundbreaking Performance in Military/Aerospace Testing Environments | |
| | Print Version |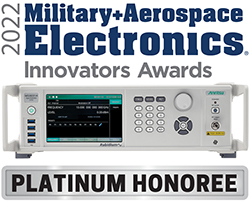 Morgan Hill, CA – September 28, 2022 – Anritsu Company announces that its Rubidium signal generator family has been recognized among the best by the 2022 Military + Aerospace Electronics Innovators Awards. An esteemed and experienced panel of judges from the aerospace and defense community recognized Anritsu as a Platinum honoree. A Platinum award recognizes a superb innovation, characterized by a groundbreaking approach to meeting a need, and/or a new level of performance, efficiency, ease-of-use or other beneficial quality.
"On behalf of the Military + Aerospace Electronics Innovators Awards, I would like to congratulate Anritsu on their Platinum-level honoree status," said Military + Aerospace Electronics Editor-in-Chief John Keller. "This competitive program allows Military + Aerospace Electronics to celebrate and recognize the most innovative products impacting the aerospace and defense community this year."
The Rubidium signal generator family delivers outstanding signal purity and frequency stability, even at high output power levels, across a broad frequency range of 9 kHz to 43.5 GHz. Rubidium's low single sideband (SSB) phase noise of -136 dBc/Hz (typical) and -140 dBc/Hz (measured) at 10 GHz and 10 kHz offset is unmatched in the industry. Its best-in-class harmonic and spurious performance enables customers to make measurements with better accuracy.
Rubidium offers an order of magnitude with better frequency stability compared to other signal generators that use an OCXO-based reference. Coupled with built-in, easy-to-use, at-location frequency and power calibration capability, Rubidium offers exceptional overall utility and long-term value in a broad range of military/aerospace measurement applications, as well as commercial designs.
About Military + Aerospace Electronics
Military + Aerospace Electronics is the leading media resource serving program and project managers, engineering managers, and engineers involved in electronic and electro-optic design for military, space, and aviation applications.
Military + Aerospace Electronics magazine delivers time-sensitive news, in-depth analyses, case studies, and real-world applications of new products, industry opinion, and the latest trends in the use of mil-spec, rugged and commercial off-the-shelf components, subsystems, and systems.
About Anritsu
Anritsu is a provider of innovative communications test and measurement solutions. Anritsu engages customers as true partners to help develop wireless, optical, microwave/RF, and digital solutions for R&D, manufacturing, installation, and maintenance applications, as well as multidimensional service assurance solutions for network monitoring and optimization. Anritsu also provides precision microwave/RF components, optical devices, and high-speed electrical devices for communication products and systems. The company develops advanced solutions for emerging and legacy wireline and wireless technologies used in commercial, private, military/aerospace, government, and other markets.
To learn more visit www.anritsu.com and follow Anritsu on Facebook, LinkedIn, Twitter, and YouTube.
Anritsu Contact:
Stacy Escobar
Anritsu Company
stacy.escobar(ATMARK)anritsu.com
408.201.1966

Agency Contact:
Patrick Brightman
3E Public Relations
pbrightman(ATMARK)3epr.com
973.263.5475
PR Archives: Latest, By Company, By Date