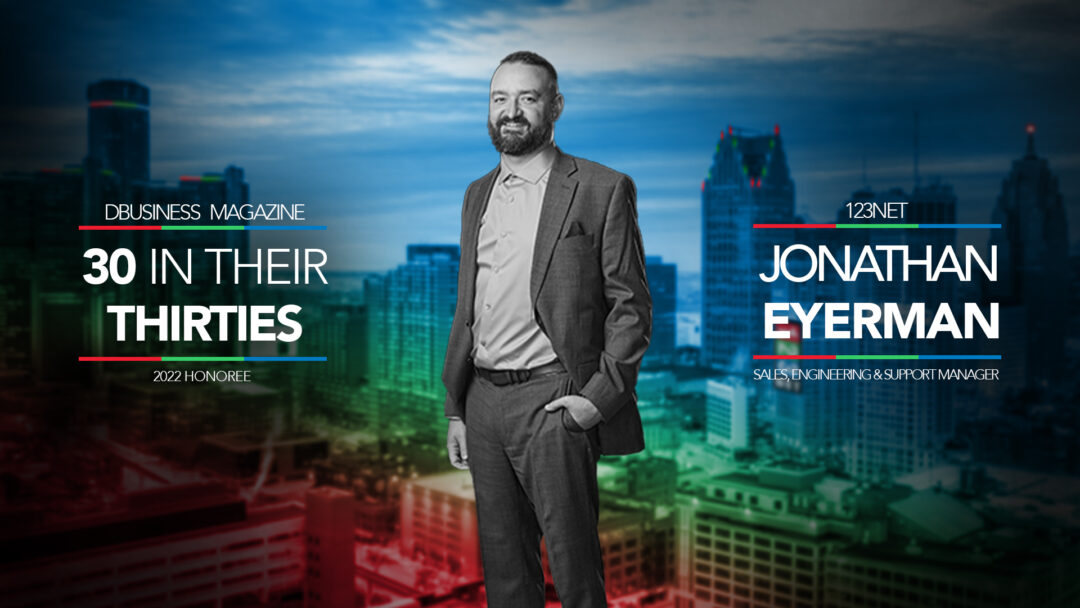 Southfield, Michigan, June 7, 2022 – Jonathan Eyerman, 123NET's manager of sales, engineering and support, was named to the DBusiness "30 in Their Thirties" Class of 2022. A breakfast event will be held at the Daxton Hotel on June 8 to honor this year's class.
The annual DBusiness list celebrates metro Detroit professionals who have achieve remarkable success early in their careers. This year's class includes executives from a wide range of industries including automotive, commercial real estate, development, health care, government, civic, non-profit, education and other business leaders who lead operations, oversee complex projects and make significant contributions to their respective organizations.
At 123NET, Eyerman's desire to make a difference in people's lives and his decisive leadership style has helped the company expand what is already the largest fiber network in Michigan while also delivering customer-centric support. "My passion is to help people," Eyerman, said in his profile. "Every day is different here at 123Net. I do a little bit of everything. I primarily work in sales, so I might be meeting with clients or working on product and service development and support. It's nice coming to work."
Eyerman credits 123NET's workplace culture as a contributing factor to his rapid rise. "When I came to 123NET they kind of let me do what I could do. The company believed in me — and when you're in that place, it's really easy to come along quickly because there are no borders on what you can achieve," he said.
The complete DBusiness "30 in Their Thirties" Class of 2022 is available here.
PR Archives: Latest, By Company, By Date