2/25/2022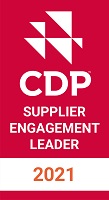 Anritsu Corporation (President Hirokazu Hamada) is pleased to report that it has been chosen as a Supplier Engagement Leader (the highest rating) for the second year in succession by the international not-for-profit organization CDP in the Supplier Engagement Rating (SER).
CDP sends survey questionnaires to companies about measures for tackling climate change, protecting water resources, and preserving forests, etc., and discloses the results its evaluation to businesses and local governments.
The SER evaluates collaboration with company's suppliers on climate-change issues using four categories: Governance; Scope 3 emissions ; Targets and Supplier engagement. Companies with excellent results are awarded the Supplier Engagement Leader. In FY2021, it was awarded to the top 8% of survey respondents (more than 500 companies worldwide, 105 companies from Japan including Anritsu).
Tackling Climate Change
Anritsu has devised plans for Scope 1[*1]+2[*2] and Scope 3[*3], which were approved by the SBT Initiative[*4]in December 2019 as a scientifically well-grounded standard for achieving the 2°C target proposed by the 2015 Paris Agreement[*5], to reduce the company's greenhouse-gas emissions by 2030. We are making steady progress in reaching our goals for the entire supply chain. The Anritsu Sustainability Report 2021 disclosed our activities in compliance with the framework of the TCFD[*6] proposal. Moreover, We plan to change SBT to either well below 2°C or 1.5°C by fiscal 2023.
Targets confirmed by SBT initiative
Scope 1+2

By fiscal 2030, reduce the Anritsu Group's greenhouse gas emissions by 30% compared to the fiscal 2015 level

Scope 3

By fiscal 2030, reduce the Anritsu Group's greenhouse gas emissions resulting from the purchased goods and services and the use of sold products by 30% compared to the fiscal 2018 level
Tackling Scope 1+2
To focus on private energy generation and consumption, we established the Anritsu Climate Change Action PGRE 30 policy targeting staged increases in the ratio of in-house Group solar power generation at the Atsugi head office in Kanagawa, Tohoku Anritsu in Fukushima, and Anritsu Company in California, USA. The target is to increase the proportion of in-house power generation relative to the total power consumption of the entire Group to about 30% by around 2030 from 0.8% in FY2018. In FY2020, Anritsu Company installed 1100 kW of solar-power facilities which started generating power from October that year, increasing the proportion of Group in-house solar generation to 3.3%.
Tackling Scope 3
We have established targets to cut Group greenhouse-gas emissions from purchased goods and services as well as sold products. For purchased goods and services, we conduct policy briefing sessions and information exchange to help our suppliers introduce renewable energy resources and cut energy consumption. For sold products, we are determining power consumption reduction targets for new products in development as well as working on implementing power reduction scenarios.
SDG goal 7 targets how the international community can counter climate change and global warming, and item 7.2 covers greatly increasing the proportion of renewable energy in the world's energy mix by 2030.
The Anritsu Group is steadily promoting various future measures, starting with our PRGE 30 policy, to cut our greenhouse-gas emissions.
Click to learn more about Anritsu news releases on climate change.
Technical Terms
[*1] Scope 1

Scope 1 covers reduction of direct greenhouse-gas emissions (from Anritsu plants, offices, company vehicles, etc.).

[*2] Scope 2

Scope 2 covers reduction of indirect greenhouse-gas emissions from energy suppliers (due to company purchase of heat and power).

[*3] Scope 3

Scope 3 covers reduction of total emissions from the business supply chain (excluding Scope 1+2).

[*4] SBT Initiative

International initiative formed by United Nations global compact between WWF (World Wildlife Fund), CDP (former Carbon Disclosure Project), and WRI (World Resources Institute). The aim of the SBT Initiative is to set scientifically well-grounded standards for businesses to hold the average increase in global temperature due to climate change to 2°C or less compared to temperatures before the Industrial Revolution.

[*5] Paris Agreement

International agreement between major countries concluded on December 12, 2015, at COP21 in Paris, France, regarding limiting climate change.

[*6] TCFD

Abbreviation for Task Force on Climate-related Financial Disclosures International task force established by international Financial Stability Board with members from central banks and financial regulatory authorities of major industrial nations.
PR Archives: Latest, By Company, By Date