Jersey City – December 15, 2021
IPC, a leading provider of secure, compliant communications and multi-cloud connectivity solutions for the global financial markets, today announced that CEO, Robert Santella, has won Comparably's 2021 global survey for Best CEO.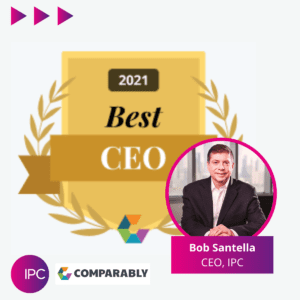 This recognition was determined based on anonymous employee feedback on Comparably.com over the past 12 months. These awards rank the top 50 best CEOs for large companies, and the top 50 best for small and midsize companies. To get these results, Comparably fielded over 10 million anonymous employee ratings from over 50,000 companies. See full ranking list here.
"I am honored to accept this award on behalf of the entire IPC team, as it reflects a unified, creative and positive company culture. We are continuously cultivating opportunities for growth, development and skill enhancement, to enable our employees to reach their maximum potential as well as putting a focus on bringing in seasoned talent with highly skilled, transferable experience."
Commented Santella.
As we look forward to a successful 2022, we at IPC, appreciate the confident leadership and opportunities given by our CEO to continue having an impactful future together!
PR Archives: Latest, By Company, By Date