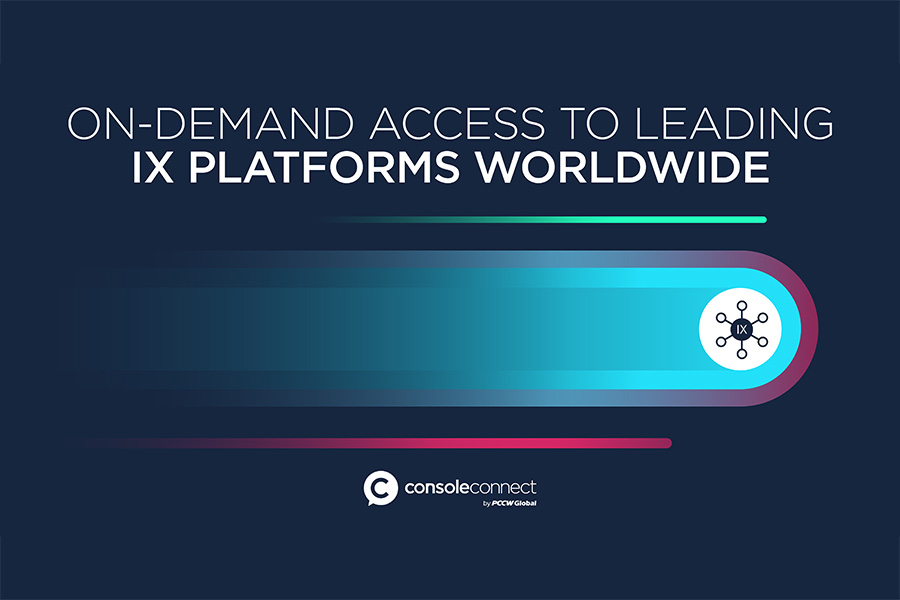 Enables new levels of flexibility and agility with remote peering
Long time NJFX partner, PCCW Global continues to drive value and increased capabilities to the NJFX ecosystem and beyond. After launching its Console Connect platform at NJFX last year, which enabled global on-demand connectivity, PCCW Global is now offering its new IX-as-a-Service (IXaaS) to global carriers and enterprises through Console Connect.
This new capability is available to customers at NJFX's CLS colocation campus and offers access to leading IX platforms including DE-CIX, LINX, HKIX, SGIX, KINX and JPNAP. IXaaS offers easy, fast and flexible ways to order, provision and pay for IX services from some of the world's largest Internet Exchanges (IXs).
"There are no limits to what NJFX customers and partners can do, and that dynamic is exemplified by Console Connect's new IXaaS. Through the company's unique MeetingPlace, users can connect, buy, and sell a variety of services including cloud, SaaS, UCaaS and IoT. This creates tremendous optionality and further enhances our unique CLS ecosystem by meeting increased demand for rapid provisioning of on-demand, superior interconnection services." –  Felix Seda, General Manager of NJFX
IXaaS: Real-time, on-demand access to IXs worldwide
Directly order IX services and pay for connections to leading IX platforms in real-time
Experience high-performance remote peering with multiple exchanges across the world
Manage IX services and connections through a user-friendly web portal
Self-provision and pay for IX services and virtual connections in a few clicks
Multiple virtual connections can be provisioned via a single port
Directly interconnect with major cloud, SaaS and NaaS platforms including AWS, Alibaba Cloud, Cloudflare, Google Cloud, Microsoft Azure, RingCentral and more.
"We are excited to be introducing NJFX customers to our new IXaaS, transforming how they experience and access Internet Exchanges worldwide. What differentiates our remote peering solution is that it includes the dedicated layer 2 interconnection and the cost of the Partner Peering platform, enabling NJFX customers to seamlessly manage both their IX services and their connectivity from wherever they are located. And, of course, interconnections are on-demand and delivered across PCCW Global's high-performance network." – Michael Glynn, Vice President of Digital Automated Innovation, Console Connect
NJFX's carrier-neutral CLS is THE place for your global connectivity needs. With four subsea cable systems and over 20 carriers, you have direct access to highly robust and resilient networking options – all in one place.
For more information or to schedule a tour, please contact info@njfx.net.
PR Archives: Latest, By Company, By Date