Anritsu's #MWC21 Wireless Technology Event Provides Immersive Environment to See Leading 5G Technologies and Test Solutions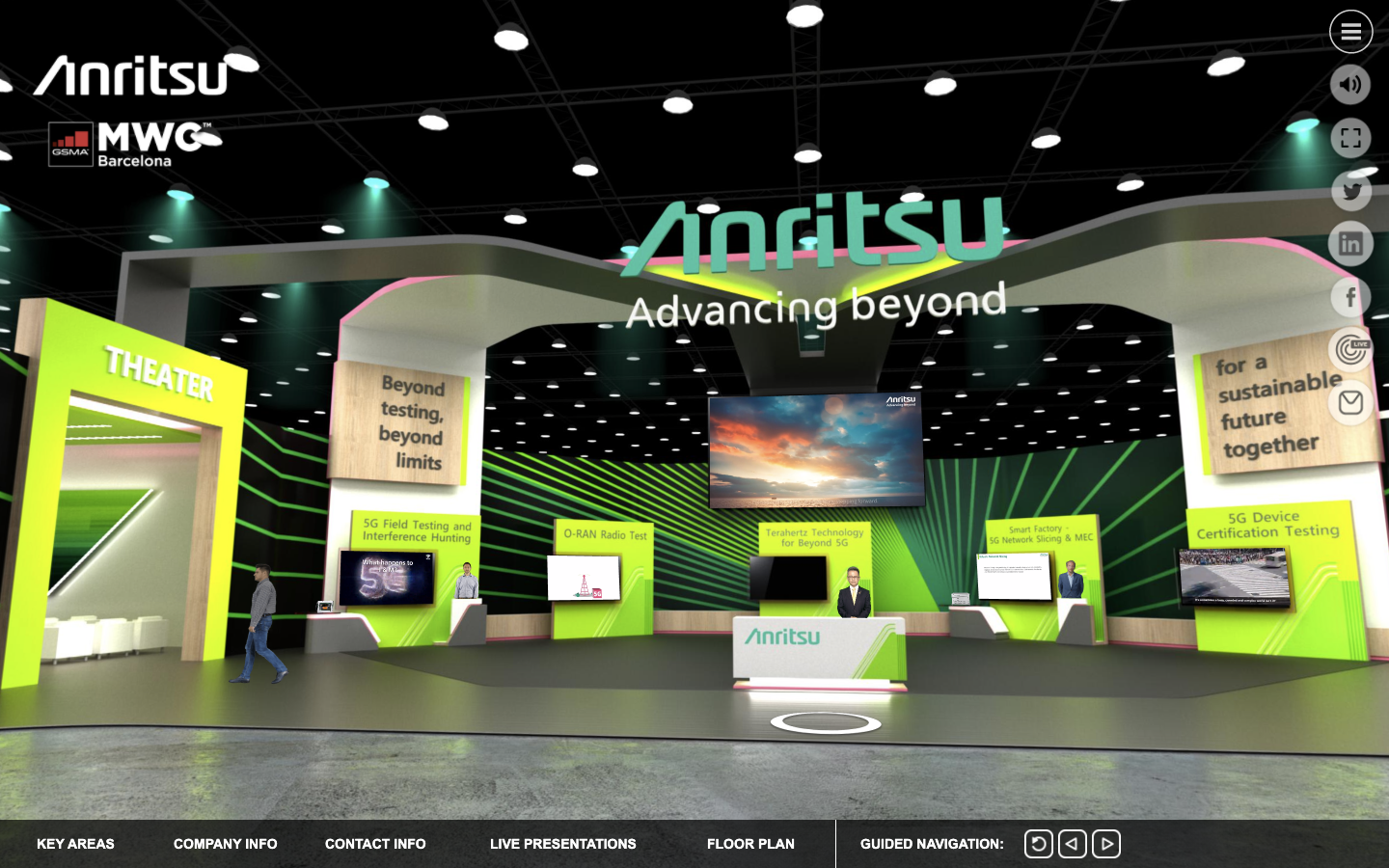 Allen, TX – 6/14/2021 – Anritsu is hosting its first virtual Mobile World Congress #MWC21 Wireless Technology Event that creates an interactive experience to learn about emerging technologies and test and analytics solutions to support advanced networks and UE as the industry continues towards 6G. Encompassing a "Beyond testing, beyond limits, for a sustainable future together" theme, the event will provide visitors with opportunities to attend live presentations on emerging technologies, and have access to videos, white papers, and other valuable content – all on a new custom interactive platform.
Anritsu is hosting its #MWC21 Wireless Technology Event as an alternative to attending Mobile World Congress 2021. It will be open from June 28 – July 1 with live demonstrations and until July 30 with on-demand presentations. Engineers and other wireless industry professionals will have a unique opportunity to eMeet and engage with Anritsu technology and product experts.
Seven content demo stations are part of the #MWC21 Wireless Technology Event. Select stations will have a product expert avatar, while all will offer product information, white papers/data sheets, and partner information. Visitors control the experience by clicking on the items of interest in order of preference. Five stations are devoted to test and measurement, and two focus on service assurance.
Testing Leading Edge Technologies
6G Terahertz Technology – The constant evolution of communication systems, including future systems beyond 5G, is resulting in networks operating at millimeter-wave (mmWave) frequencies to meet higher bandwidth and data rate demands. The station will highlight how research and development of terahertz band components and devices is now expanding, and new test solutions are required.
5G Network Slicing – As 5G networks migrate to stand alone (SA) architecture, operators will offer network slicing with Edge computing. A station will show a smart factory scenario in which a robot arm and inspection camera are linked to an Edge node that provides low latency processing of video and feedback control to the robot arm. The demonstration will use a 5G SA network slice to show how the camera and robot have access to dedicated network resources at the required low latency and high bandwidth.
5G Field Testing and Interference Hunting – How the Field Master™ Pro MS2090A real-time spectrum analyzer meets stringent 5G mobile network installation and maintenance requirements will be demonstrated. The MS2090A assures stable 5G mobile network operations and preventive maintenance, helping support future 5G network innovation.
O-RAN Radio Test – An O-RAN network concept and architecture and 3GPP-based Radio Unit testing methods will be highlighted at a dedicated station. It will feature the benchtop Spectrum Analyzer/Signal Analyzer MS2850A and Radio Communication Test Station MT8000A.
5G Device Certification Testing – A complete test solution featuring the New Radio RF Conformance Test System ME7873NR and 5G NR Mobile Device Test Platform ME7834NR to certify 5G devices for Protocol and RF Conformance will be shown.
Service Assurance to Optimize Network Performance
5G Automated Assurance – Anritsu will showcase the probing and troubleshooting capabilities of its eoLive, MasterClaw, and vProbe. The solutions offer end-to-end insight into customer experience and network traffic.
Augmented Analytics – Detection of real-time subscriber-affecting issues using the Anritsu eoMind and eoSight will be featured.
Visitors to the #MWC21 Wireless Technology Showroom can view six videos in the theater. From June 28 – July 1 there will be a daily YouTube Live event. A live video chat on each test and measurement solution that includes a webcam and Q&A will be held each of the four days. Additionally, a chat function will be available so visitors can talk to Anritsu product and technology experts during the event's designated hours. To register, visit the dedicated #MWC21 event page.
#MWC2021 is the first event Anritsu is hosting on the interactive platform. Future events are planned to continue to provide thought leadership and opportunities to learn about emerging technologies and test solutions to support them.
About Anritsu
Anritsu is a provider of innovative communications test and measurement solutions. Anritsu engages customers as true partners to help develop wireless, optical, microwave/RF, and digital solutions for R&D, manufacturing, installation, and maintenance applications, as well as multidimensional service assurance solutions for network monitoring and optimization. Anritsu also provides precision microwave/RF components, optical devices, and high-speed electrical devices for communication products and systems. The company develops advanced solutions for emerging and legacy wireline and wireless technologies used in commercial, private, military/aerospace, government, and other markets.
To learn more visit www.anritsu.com and follow Anritsu on Facebook, LinkedIn, Twitter, and YouTube.
Anritsu Contact:
Laura Edwards
Senior Manager, Americas Marketing
Office: 972.644.1777
Cell: 972.605.0638
Laura.Edwards(ATMARK)anritsu.com

Agency Contact:
Patrick Brightman
3E Public Relations
pbrightman(ATMARK)3epr.com
973.263.5475
PR Archives: Latest, By Company, By Date