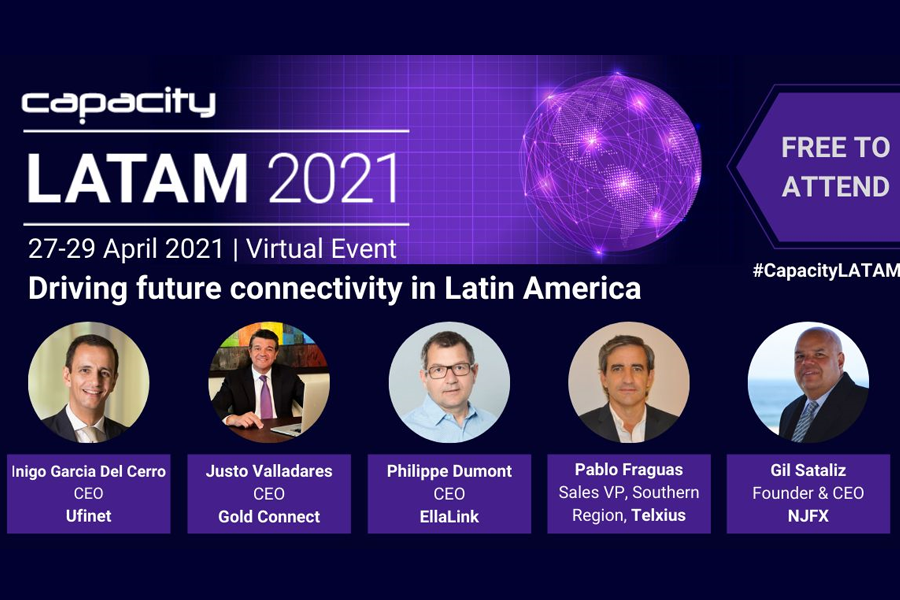 Helping to Define Latin America's Connectivity Strategy for the Year Ahead
Industry leaders are coming together to drive the future of connectivity for Latin America at this year's Capacity LATAM Conference. This must-attend event for regional and global telecom leaders will showcase how telecom carriers are transforming their businesses to meet digital connectivity needs.
The event will be held virtually April 27 – 29, 2021, providing ample opportunity to engage in the action packed agenda. Gil Santaliz, NJFX CEO will join other thought-leaders for the Subsea Keynote panel on April 29 at 10:30 BRT entitled: Delivering Diverse Connectivity to Latin America
Subsea Keynote Panelists include:
Fabian Campo, Senior Managing Director, Delta Partners
Philippe Dumont, CEO, EllaLink
Gil Santaliz, CEO, NJFX
Andy Bax, COO, Seaborn
Pablo Fraguas, Sales VP, Southern Region, Telxius
Panel Topic:
Latin America is home to several exciting new and upcoming subsea projects. This session explores how new cables are lowering latency, increasing resilience, ensuring better connectivity for all, and challenging the dominance of North-South connectivity.
Santaliz will draw on his 25 years of experience and many telecom partnerships to provide valuable insights on the state of the telecom market, changing dynamics of global subsea cable deployments and other market trends.
As CEO of NJFX, Santaliz helps carriers strategically diversify connectivity options to key hubs across North America, Europe, and South America, bypassing legacy chokepoints.
Santaliz founded NJFX based on a critical need he saw in the marketplace for route diversity and help carriers solve for single points of failure and the potential of bottlenecks found in congested areas such as NYC Metro. Hence, 'Tier 3 by the Subsea' was born. This first-ever model in the U.S. intersects a carrier-neutral subsea Cable Landing Station meet-me room with an independent Tier 3 colocation facility. Home to four subsea cables, including Havfrue/AEC2, Seabras, TGN1 and TGN2, NJFX is the ecosystem of choice for carriers, subsea cable providers, OTTs, enterprises and financials.
Register for the event HERE.
To learn more or to schedule a meeting with the NJFX team, please contact info@njfx.net.
PR Archives: Latest, By Company, By Date