Ashburn Virginia – Dark Fiber and Infrastructure, LLC (DF&I) is closing in on 100% completion of its' initial network build between Ashburn, VA and Linthicum Heights, MD.  Today, the network can already be used to augment every major carrier network in the region looking to provide added diversity, security, and latency reduction between MD and Ashburn, VA.  By Summer 2021, the 100% underground, ultra-low latency connection will enable dark fiber connectivity, without the need for any signal regeneration between the I-95 Corridor south of Baltimore and the Cloud Eco-systems residing in Data Center Alley.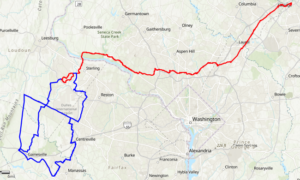 With the Ashburn Extension project wrapping up the company is very excited to announce it has completed the engineering, has permits in hand, and this February, we began construction on an 85-mile southern expansion.  The new 12 conduit system augments our existing 22 conduit package in Ashburn enabling contiguous connectivity through Arcola and around Dulles Airport before connecting Gainesville, Haymarket, and Manassas. The highly secure 12 conduit system will provide diversity and scale in a region where those things are in very short supply.  The DF&I network will support dedicated conduit and high-count dark fiber requirements throughout Loudoun and Prince William Counties.
DF&I is not only expanding its' network reach, but it has increased the depth of its' internal resources and capabilities as well. The Company is very pleased to formally announce the addition of Ron Holt as the Vice President of Network Engineering and Operations.  Mr. Holt is a veteran of the United States Army and is widely recognized as an expert in advanced security and access monitoring protocols focused on the protection of physical infrastructure in public rights of way.  DF&I is committed to being the industry leader in network security and Ron's addition to the team bolsters that commitment.  "Assembling the right team is critical to building the foundation of a company that can not only scale but positions itself to be able to successfully adapt to an ever-changing opportunity and demand set", commented Judd Carothers DF&I Co-Founder and COO.
PR Archives: Latest, By Company, By Date