Recognition for the use of Artificial Intelligence to improve operational efficiency and customer experience
Rome, 2 November 2020
Sparkle, the first international service provider in Italy and among the top ten global operators, has won the "Operator Efficiency" prize at the World Communication Awards 2020 (WCAs) virtual ceremony, held as part of the Total Telecom Congress to celebrate innovation and excellence across the full breadth of the telecommunications industry. This achievement is an absolute novelty for Sparkle who ran for the first time.
The award recognizes Sparkle's effectiveness in automating its Operations, Provisioning, Pre-Sales, Marketing and Customer Care processes through the introduction of Robotic Process Automation (RPA), Machine Learning and Artificial Intelligence. Started in 2019, Sparkle's Network Intelligent Operations (NIO) program has already shown excellent results: entrusting robots with the most repetitive tasks, the company was able to completely eliminate human errors, speed up service delivery and restoration times and save more than 10,000 working hours that employees can spend on higher value professional activities. According to the judges, "Sparkle provided an excellent demonstration of the use of AI to improve operations efficiency, thus allowing the operator to concentrate on its customers".
Commenting this success, Elisabetta Romano, CEO of Sparkle, said: "This award endorses our ongoing digital transformation. Besides operational efficiency, the NIO program, combining technology and innovation with soft and hard skills, is improving the quality of service offered to our customers. We are very proud that the jury acknowledged its value".
Organised by Total Telecom, for 22 years the World Communication Awards have recognized innovation and excellence for global telecoms. Winners have been selected by a qualified panel of sixty industry-leading judges ensuring independence and impartiality.
The WCA prize follows, a few days later, the business recognitions achieved at the Global Carrier Awards 2020 for "Best Middle East Africa Project", "Best Americas Project", "Best Data Centre" and "Best 5G Deployment", confirming once again Sparkle's role as a leader and innovator in the global telecommunication industry.
Sparkle Media Contacts:
+39 0652744093
sparkle.communication@tisparkle.com
Twitter: @TISparkle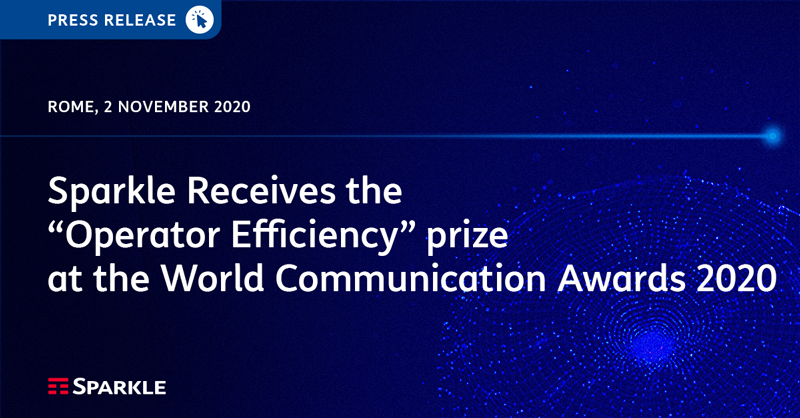 PR Archives: Latest, By Company, By Date