10/8/2020
PCIe Receiver Test Enhancements Expand BERT Capability to Address Verification Needs of Emerging High-speed Designs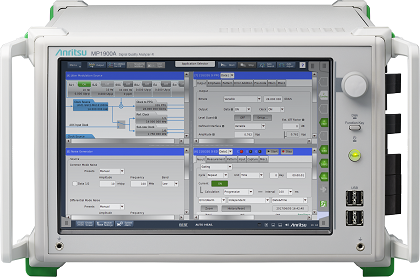 Allen, TX – October 8, 2020 – Anritsu Company enhances its Signal Quality Analyzer-R MP1900A BERT with expanded PCI Express® (PCIe) receiver test capability to support emerging PCIe 6.0 designs using PAM4 32-Gbaud technology. With the upgraded high-quality waveform performance of the PAM4 pulse pattern generator (PPG) MU196020A, the MP1900A can conduct PCIe receiver tests on high-end servers, high-performance computers, 400 GbE communications equipment, and other products, according to the latest high-speed, large-capacity PCIe standards.
The expanded functionality supports early-stage development of PAM4 PCIe 6.0 equipment using the PAM4 PPG MU196020A with high-quality data output performance. When the existing signal integrity (SI) error detector (ED) MU195040A is integrated into the MP1900A, a single-instrument solution is configured that can conduct PCIe 6.0 PAM4 evaluations, as well as PCIe 3.0/4.0/5.0 NRZ performance evaluations and compliance tests to help improve time-to-market of products utilizing the high-speed interface technology.
An automated Equalizer Search function for easy PAM4 BER measurements and Eye Contour functions for evaluating PAM4 signal Eye margin characteristics have been added to the MP1900A, as well. SAS3/4 and DP1.4 receiver tests can also be conducted with the MP1900A. High-reproducibility PCIe 3.0/4.0/5.0, SAS3/4 and DP1.4 measurements at reduced workloads are achieved using Granite River Labs (GRL) automation software for automatic signal calibration and testing.
MP1900A BERT Outline
The Signal Quality Analyzer-R MP1900A series consists of multichannel bit error rate (BER) measuring instruments. The modular BERTs can inspect and verify next-generation network interfaces, such as 400 GbE and 800 GbE, as well as high-speed bus interfaces, such as PCI Express 4.0/5.0/6.0, USB3.2, USB4™, and Thunderbolt™. In addition to more accurate BER measurements, the MP1900A helps shorten development times for high-speed devices and transceivers.
About Anritsu
Anritsu Company is the United States subsidiary of Anritsu Corporation, a global provider of innovative communications test and measurement solutions for 120 years. Anritsu's "2020 VISION" philosophy engages customers as true partners to help develop wireless, optical, microwave/RF, and digital solutions for R&D, manufacturing, installation, and maintenance applications, as well as multidimensional service assurance solutions for network monitoring and optimization. Anritsu also provides precision microwave/RF components, optical devices, and high-speed electrical devices for communication products and systems. The company develops advanced solutions for 5G, M2M, IoT, as well as other emerging and legacy wireline and wireless communication markets. With offices throughout the world, Anritsu has approximately 4,000 employees in over 90 countries.
To learn more visit www.anritsu.com and follow Anritsu on Facebook, LinkedIn, Twitter, and YouTube.
Anritsu Contact:
Laura Edwards
Senior Manager, Americas Marketing
Laura.Edwards(ATMARK)anritsu.com

Agency Contact:
Patrick Brightman
3E Public Relations
pbrightman(ATMARK)3epr.com
973.263.5475
PR Archives: Latest, By Company, By Date