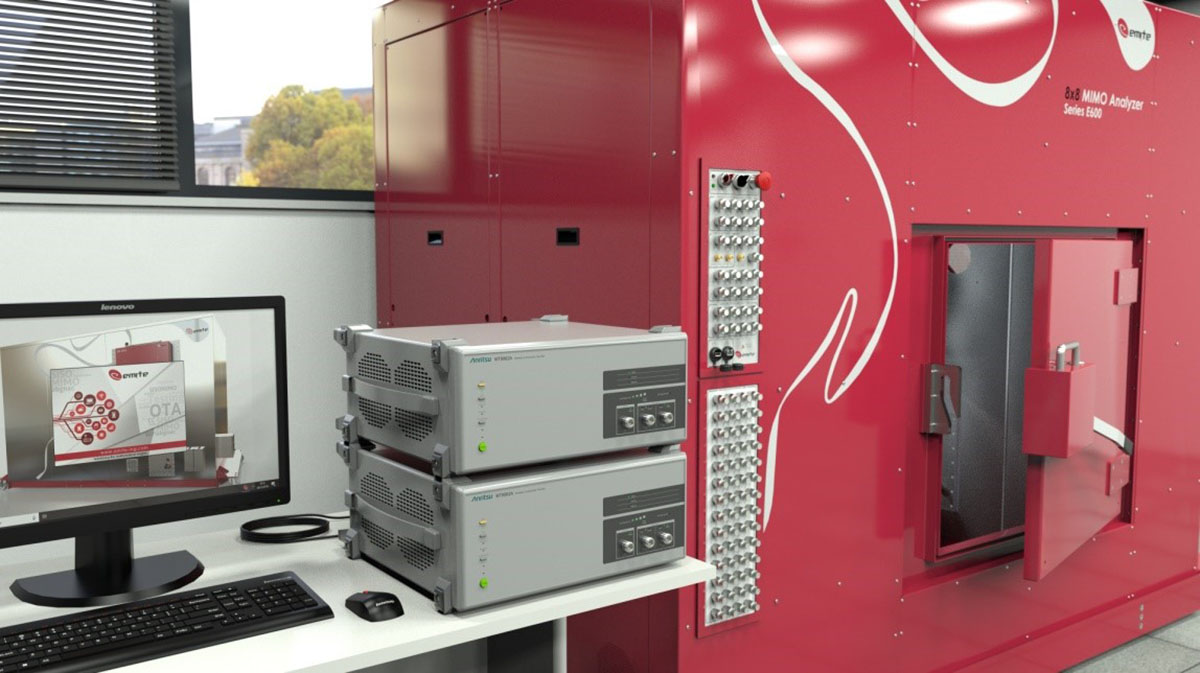 Allen, TX – April 7, 2020 – Anritsu and EMITE are proud to announce their latest combined solution for testing the most recent IEEE 802.11 WLAN standard. The new Anritsu Wireless Connectivity Test Set MT8862A has been successfully integrated in combination with the EMITE E600 Reverberation Chamber to test OTA TRP/TIS performance of IEEE 802.11ax devices in a repeatable environment. With built-in communications protocols and optimized performance for WLAN testing, the MT8862A + EMITE reverberation chamber can characterize with high reliability the performance of the latest devices on the market.
The new integration has been able to successfully measure total radiated power (TRP) and total isotropic sensitivity (TIS) OTA performance indicators in IEEE 802.11ax devices. Being able to test the latest WLAN standards keep EMITE and Anritsu on the leading edge of technology for helping customers and service providers deliver their WLAN solutions to the market with total confidence in the performance.
"We are proud once again to develop the capability with the aid of Anritsu's unique Wireless Connectivity Test Set MT8862A WLAN and our E600 Reverberation Chamber WLAN. We are already in contact with some of the most important companies worldwide who have shown interest on this solution for their TI efficiency, saving costs in advance of any investment," said Lorenzo J. Martínez-Moya Scharpf, CFO of EMITE.
"WLAN OTA performance test demand is recently increasing to secure the brand position with high-quality WLAN products. The IEEE 802.11ax will be a standard WLAN technology in the future from the latest technologies and features viewpoint. We are also proud to release the OTA test solution collaborated with EMITE's leading-edge chamber products to the world-wide market," said Hideo Zuinen, Product Manager, IoT Test Solutions Div., Anritsu Corporation.
About EMITE
EMITE Ingeniería, S.L. is a high‐tech company, spin‐out from the Technical University of Cartagena (Spain). EMITE designs, develops, manufactures and commercializes OTA Test Systems for performance, compliance and pre‐compliance testing of any 2G to 5G standards and pre‐standards worldwide, including 5G, LTE‐A and Wi-Fi (up to 6E). Headquartered at the Fuente Álamo High Tech Park in the Region of Murcia (Spain) and with distributors in 25 countries, test house show rooms in America, Asia and Europe, and both national and international awards, EMITE OTA Test Systems are being used worldwide by carriers, OEMs, test labs, regulatory authorities and many others around the wireless ecosystem. With a customer‐driven roadmap and a vision of changing the way technology gets through our life, EMITE OTA Test Systems are more than just chambers, bringing OTA testing into a new era of capabilities and easiness. EMITE MIMO OTA Test Systems were selected by 3GPP and CTIA as candidate methodology for the study and work items through standardization of LTE MIMO OTA test methods. www.emite‐ing.com
For more information, register with EMITE at http://www.emite-ing.com/ing/register.php or visit www.emite-ing.com
About Anritsu
Anritsu Company is the United States subsidiary of Anritsu Corporation, a global provider of innovative communications test and measurement solutions for 120 years. Anritsu's "2020 VISION" philosophy engages customers as true partners to help develop wireless, optical, microwave/RF, and digital solutions for R&D, manufacturing, installation, and maintenance applications, as well as multidimensional service assurance solutions for network monitoring and optimization. Anritsu also provides precision microwave/RF components, optical devices, and high-speed electrical devices for communication products and systems. The company develops advanced solutions for 5G, M2M, IoT, as well as other emerging and legacy wireline and wireless communication markets. With offices throughout the world, Anritsu has approximately 4,000 employees in over 90 countries.
To learn more visit www.anritsu.com and follow Anritsu on Facebook, LinkedIn, Twitter, and YouTube.
All registered trademarks are exclusive property of their respective owners.
Anritsu Contact:
Kim Collins
Director, Americas Marketing
Kim.Collins(ATMARK)anritsu.com
972.761.4625
EMITE Contact:
Lorenzo J. Martínez-Moya Scharpf
CFO
sales(ATMARK)emite-ing.com
+ 34 968 100 181
Agency Contact:
Patrick Brightman
3E Public Relations
pbrightman(ATMARK)3epr.com
973.263.5475
PR Archives: Latest, By Company, By Date