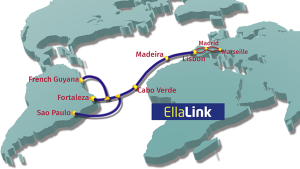 Dublin, Ireland – May 6, 2019 – the EllaLink Group announced today that Alcatel Submarine Networks has finalized the Cable Route Study and mobilized the marine survey vessel for the EllaLink submarine cable system. The survey will be performed over the coming months and permit acquisition continues in line with EllaLink's plans to be Ready for Service by the end of 2020.
EllaLink is a state-of-the-art 4 fiber pair submarine cable system designed to satisfy the growing demand for traffic between Europe and Latin America. The low latency EllaLink route avoids the congestion of the North Atlantic by offering the first ever direct fiber pair between the two continents.
"We are delighted to have appointed Alcatel Submarine Networks to undertake the marine survey and permitting work for the EllaLink cable system. The survey will collect vital data for the project, helping us determine the most effective route between Sines and Fortaleza, from a reliability, environmental and economic point of view. The launch of the permitting and survey work is also a significant step towards meeting our plans for lighting the system by close 2020," commented Philippe Dumont, CEO of the EllaLink Group.
Following completion of the survey work, Alcatel Submarine Networks will commence manufacturing activities ahead of marine operations next year. The EllaLink system is designed to offer 72Tbps of capacity using leading edge coherent technology.
About EllaLink
EllaLink is an advanced subsea cable system offering secure high capacity connectivity on a unique low latency transatlantic route serving the growing needs of the Latin American and European markets. The EllaLink network directly connects Brazil and Europe, linking the major hubs of São Paulo and Fortaleza with Lisbon, Madrid and Marseille.
The EllaLink System is being built with state-of-the-art coherent technology initially offering 72Tbps of capacity over four fiber pairs. The landing sites in Fortaleza (Brazil) and Sines (Portugal) have been secured and EllaLink is scheduled to be Ready for Service in 2020. EllaLink is a privately funded and independent company committed to providing products and services on a Carrier Neutral and Open Access basis. To learn more visit ella.link
About Alcatel Submarine Networks
Alcatel Submarine Networks, part of Nokia, leads the industry in terms of transmission capacity and installed base with more than 600,000 km of optical submarine systems deployed worldwide, enough to circumnavigate the globe 15 times. From traditional Telecom applications to Content and "Over The Top" Service Provider infrastructures, as well as to offshore Oil and Gas applications, ASN provides all elements of a turnkey global undersea transmission systems, tailored to individual customer's needs. An extensive Service portfolio completes its comprehensive offering for the submarine business, including project management, installation and commissioning, along with marine and maintenance operations performed by ASN's fully owned fleet of cable ships.
PR Archives: Latest, By Company, By Date