Verizon gives parents the help they need with industry's most comprehensive parental controls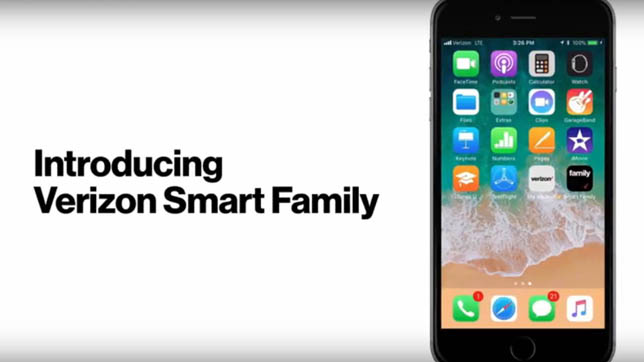 NEW YORK – When it comes to kids and technology, parents can always use a little help. Kids are getting smartphones earlier than ever– on average, children with a smartphone received it at seven and a half years old according to the Family Online Safety Institute. Knowing how to best manage your kids' smartphone activity can be tricky if you don't have the right tools.
On April 19, parents will get access to the most comprehensive mobile parenting tools in the industry as Verizon evolves FamilyBase, its current parental controls product, into Verizon Smart Family. Verizon Smart Family is your partner in parenting that lets you know when your kids are using their phone, allows you to limit what they see on their phones by setting content filters, and helps you manage their screen time. The app has also been redesigned with a fresh new look and easy-to-use controls to make it easier than ever for parents to use.
"Being a parent in today's digital world can be daunting, but it doesn't have to be," said Susie Fernandes, senior product manager at Verizon. "We created Verizon Smart Family to give parents the tools they need to help them raise tech savvy kids with a healthy and responsible approach to screen time and content viewing."
Verizon Smart Family helps you manage screen time by instantly pausing the internet, lets you to check battery status on kids' phones, and provides a summary of their text and call activity. The app also lets you block inappropriate websites and apps by setting content filters. With Verizon Smart Family Premium, you get all of that, plus location tracking that gives you the peace of mind of knowing where your kids are by using their phone's location and alerts you when your kids leave a predefined area that you set up. Parents can get Verizon Smart Family for $4.99 per month or upgrade to Verizon Smart Family Premium with location tracking services for $9.99 per month.
Verizon is a member of the Family Online Safety Institute (FOSI) and committed to making the online world safer for kids and families by providing parents with leading tools like Verizon Smart Family. Stephen Balkam, FOSI's founder and CEO, recently discussed the challenges of raising a family in the digital world on Verizon's Up to Speed podcast. He also offered his thoughts and expertise on a variety of topics, from knowing when your child is ready for a smartphone, to the pitfalls of "sharenting," and what kids can teach us about technology. FOSI's website offers a number of resources for parents, including its "7 Steps to Good Digital Parenting," and agreements you can make with your kids to help you set the right boundaries.
Learn more tips, tools and rules to navigate the online world with your kids at Family Online Safety Institute.
PR Archives: Latest, By Company, By Date