The company brings neutrality and purpose-built data centers to two of the largest communication gateways on the US-Mexico border to address growing demands for the telecom market in Mexico.
McAllen, TX, June 20, 2017 (Newswire.com) – McAllen Data Center (MDC), the leading colocation provider on the US-Mexico border, announced today the opening of two new data centers as part of its expansion program along the US-Mexico border. The company has long been recognized as the Gateway to Mexico for global network operators due to its successful interconnection-first, carrier-neutral colocation data center model in the city of McAllen.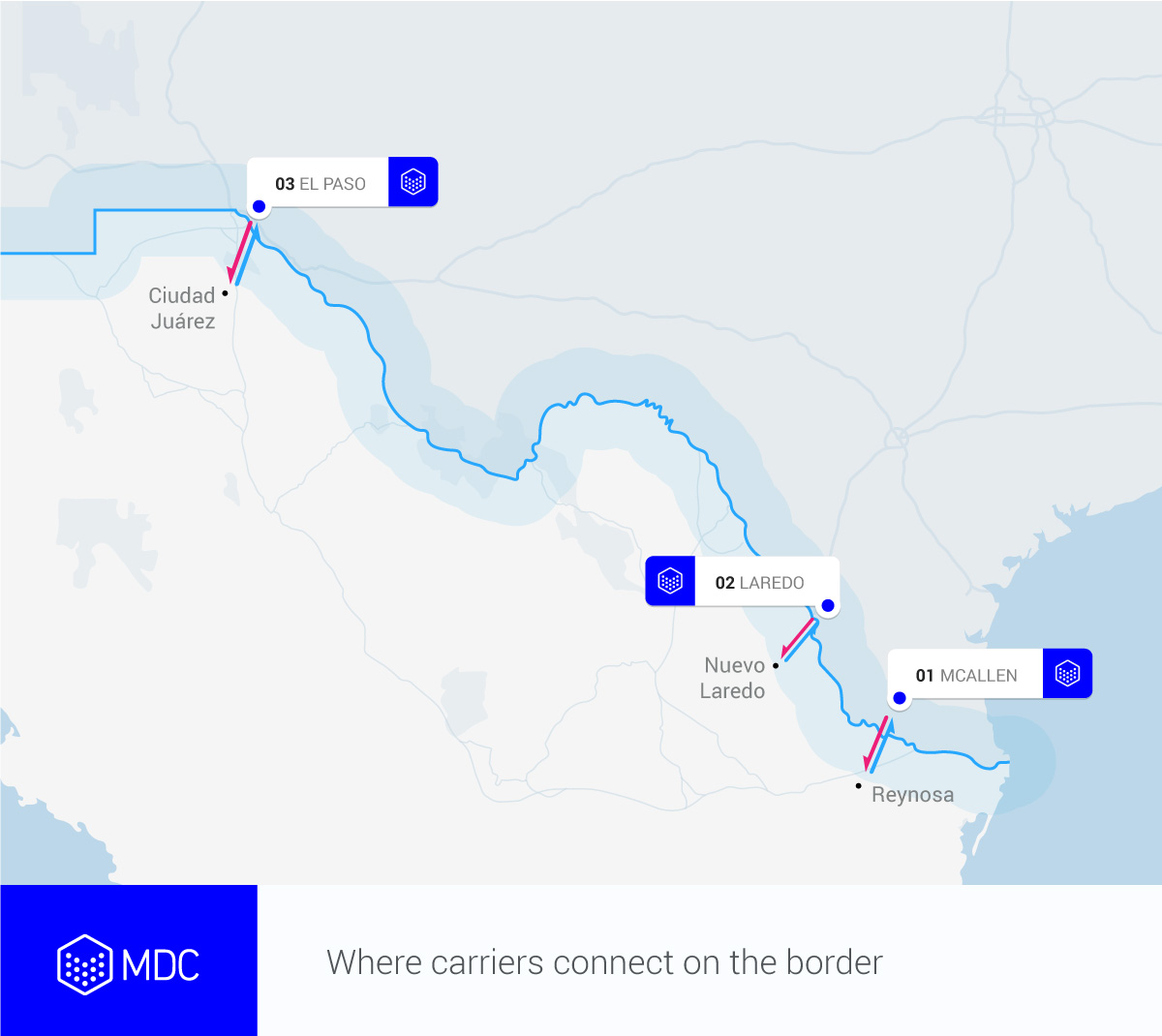 With these new interconnection hubs in Laredo and El Paso, MDC strengthens its value proposition on the US-Mexico border by becoming the only carrier-neutral provider with presence in the three largest communication gateways between Mexico and the United States within the state of Texas.
Key benefit to clients: Diversity and Choice
in colocation facilities
in fiber crossing into and out of Mexico
in fiber routes coming into and out of these border markets
in interconnection opportunities
This diversity and choice are further strengthened by partners such as FiberLight who announced last month at the International Telecoms Week that it has committed to building new fiber routes into MDC's new data centers.
"Flexibility of choice is what makes us such a good fit with MDC, we both believe that customers should have the right to choose what works best for them," said Ron Kormos, Chief Strategy Officer for FiberLight. "That is why we have committed to and are currently building into MDC's new and existing data centers."
When commenting on the expansion, Juan Salazar, CEO of MDC said, "We are taking our proven model of neutrality, carrier density, and international fiber crossings to Laredo and El Paso.  Two critical markets for the telecommunication industry in and out of Mexico." Further adding, "This growth represent a continuation of MDC's mission of becoming the leading colocation provider along the entirety of the US-Mexico border —from the Gulf of Mexico to the Pacific Ocean."
About McAllen Data Center
McAllen Data Center helps carriers and enterprises interconnect with major Network Service Providers on the US-Mexico border. The company is considered one of the fastest-growing data center in South Texas, presenting a unique offer of reliable colocation services with a fiber optics infrastructure to foster connectivity across the border. Due to its geographic proximity to Mexico, McAllen Data Center serves this emerging market allowing American and International carriers to connect to the largest concentration of Mexican networks in carrier-neutral facilities. For more information visit mcallendc.com, and follow MDC on LinkedIn and Twitter at @mcallendc
About FiberLight
FiberLight is a premier provider of fiber-optic based, high-performance networking services for telecom carriers, government, enterprise, content providers and web-centric businesses.  FiberLight owns over 1,700,000 miles of robust fiber networks in over 44 key growth areas in US cities and towns within Florida, Georgia, Maryland, Texas, Virginia and Washington, D.C., offering wide area networking options at layers 1, 2 and 3 to major commercial hubs throughout the country.  To learn more about FiberLight's service offerings, visit www.fiberlight.com.
Media Inquiries:
For McAllen Data Center:
Joel Pacheco, McAllen Data Center
Email: marketing@mcallendc.com
Phone: +1 (956) 429-3400
For FiberLight, LLC:
Jula Baker, Phase:3 Marketing and Communications
Email: Julia.baker@phase3mc.com
Phone: +1 (404) 367-9898
PR Archives: Latest, By Company, By Date