Demonstration of Panasonic and NTT Communications' Camera-Sharing Service PaN and Dai Nippon Printing's Self-printing Terminal in Kyoto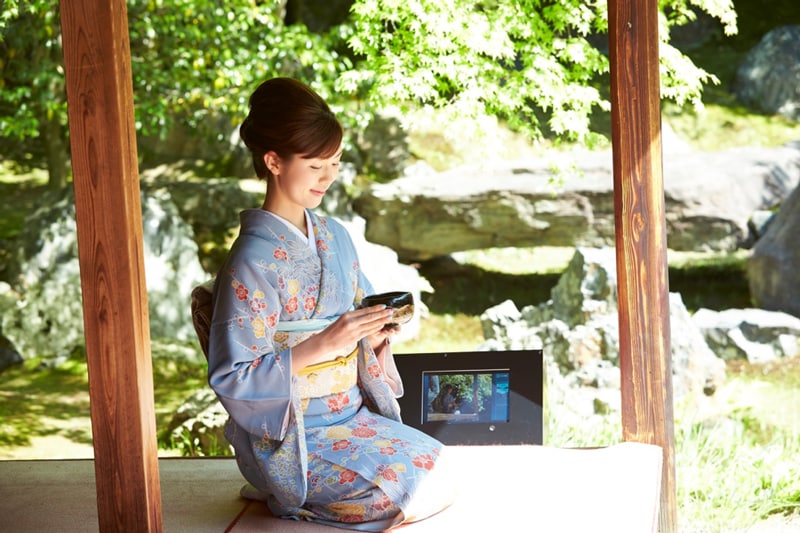 Photographs shot using "PaN"(Entokuin North Study Room)
Panasonic Corporation ("Panasonic"), NTT Communications Corporation ("NTT Communications") and Dai Nippon Printing Co., Ltd. ("DNP") are conducting a demonstration of their camera sharing service PaN ("Photo and Network") with the cooperation of two temples in Kyoto, Japan: Kenninji, the oldest zen temple in Kyoto, and Entokuin, known for its gardens.
■ What is PaN?
PaN is a new service that allows visitors to share pre-installed cameras arranged at tourist destinations, amusement parks, and event venues to take their own souvenir photos. This service has been brought to life by the combination of Panasonic's photo-shooting technology and NTT Communications' cloud-network technology. The photographs are stored automatically online in the cloud and can be downloaded easily to a user's computer or smartphone.
■Summary of Demonstration
Using photo vouchers distributed at the entrance of Kenninji and Entokuin temples, visitors can take selfies using PaN cameras arranged at various photo spots on the grounds. One card gives access to all cameras within a temple. Visitors can purchase prints and/or data of their photographs before they leave.
■ Key Features of the Event
(1) The demonstration includes DNP's photo print system so that photographs shot with the PaN cameras will not only be stored in the cloud but may also be printed at the temples as mementos.
(2) This service allows visitors to take unique photographs not typically available. For example, certain photo spots feature special camera angles on the temple grounds, and one spot offers a composite image using a green screen for an added experience.
(3) Organizing this demonstration at Kenninji and Entokuin temples simultaneously will direct people from one temple to the other to enhance their sightseeing experience.
● Prices (tax inclusive):
Data (*1): 600 yen per photo spot (includes data for all photos taken at one spot)
Print: 600 yen/copy
One photo print & all data shot within a temple (*2): 1,000 yen
*1: If multiple photographs are taken at a single photo spot, visitors will be able to download data for all shots taken at the same spot.
*2: All data of all photos shot within a temple.
● Where & When
Period: April 25 to 30, 2017
Time: 10:00 - 17:00
Locations:
Kenninji
584 Komatsu-cho, Higashiyama-ku, Kyoto, Japan 605-0811
Entokuin Temple
530 Shimogawara-cho, Kodaiji, Higashiyama-ku, Kyoto, Japan 605-0825
▼ [Video]
https://www.youtube.com/watch?v=63bBn__2GGA
Camera Sharing Service PaN:
Inquiries: Contact Form
https://pan.ntt.com/business/ (Japanese)
NOTE: Please refrain from calling temples about this service.
Related Links and Videos:
Experience the Camera Sharing Service, "PaN," at the Mercedes-Benz Christmas Event in Tokyo (November 29, 2016)
http://news.panasonic.com/global/topics/2016/45758.html
<Video>
Trick Art & Selfies: Getting the best angle with #IoT | #Panasonic LIVE@CEATEC 2016
https://channel.panasonic.com/contents/19027/
Kenninji
http://www.kenninji.jp/english/ (English)
Entokuin Temple
http://www.kodaiji.com/entoku-in/pdf/entokuin_e.pdf (English)
http://www.kodaiji.com/entoku-in/idx.shtml (Japanese)
NTT Communications Corporation
http://www.ntt.com/en/index.html
Dai Nippon Printing Co., Ltd.
PR Archives: Latest, By Company, By Date