The UK's largest independent telecommunications provider, Onecom, has today entered the Northern Ireland market by opening a new regional office in Belfast.
Headquartered near Fareham in Hampshire, Onecom operates from 12 regional offices throughout the UK and employs more than 400 staff.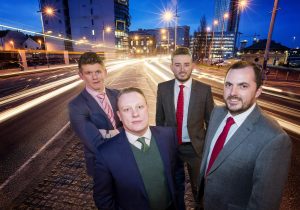 The company is Vodafone UK's largest enterprise partner, managing more than 325,000 mobile connections and delivering communication services including fixed line, mobile, broadband and cloud computing to some of the UK's most dynamic companies.
Onecom is making an investment of more than £5m in its Northern Ireland operation and expects to employ 30 people in Belfast within five years.
Based in Arthur Street in central Belfast, Onecom's local team will be led by Paul Lawther, Head of Mobile Sales for NI, alongside business development managers Stuart Lunn, Mark Fraser and Darren Brown. All are enterprise communications specialists with extensive experience of the Northern Ireland market.
Onecom Sales Director Jason Waterworth said: "Onecom has achieved significant growth by investing in our people and processes, and by delivering great customer service. We are committing to Belfast for the long term, with the aim of being the largest and fastest growing independent provider of communications in Northern Ireland."
He added: "Northern Ireland is a market with a great history of entrepreneurs building high quality businesses, it continues to attract high levels of investment from international companies and it has an unrivalled talent pool, all of which makes it very attractive for Onecom's future growth plans."
Onecom aims to provide innovative solutions to businesses in Northern Ireland that offer them a simple way of bringing together mobile, fixed line, data and IT services as one integrated, cost-effective "total communications" package, helping them to achieve greater productivity and efficiency and a better experience for their customers.
Paul Lawther, Head of Mobile Sales for NI, said: "Onecom offers resource and knowhow underpinned by a wealth of experience amassed over decades. No other independent enterprise telecoms provider can claim the same.
"Marrying Onecom's expertise with the local knowledge of our Belfast team, I believe we can bring real, tangible value and genuine innovation to businesses in Northern Ireland. Onecom really is the new name in business telecoms in Northern Ireland."
Ends
Pictured: Onecom's local team (L-R) Stuart Lunn, Paul Lawther, Darren Brown and Mark Fraser in the heart of Belfast.
About Onecom
Onecom is the UK's largest independent business telecommunications provider, operating throughout England, Wales and Northern Ireland. Onecom maintains twelve regional offices, including London, Cardiff, Southampton, Plymouth, Leeds, Telford, Norwich and Brighton. It currently manages over 325,000 mobile connections, delivering communication services and unified solutions across fixed line voice, connectivity and cloud computing to some of the UK's most dynamic companies. In 2016 the company expanded into Wales, acquiring telecoms provider Evolve in a multi-million pound deal.
Onecom was voted Vodafone Platinum Partner of 2011, 2012, 2013 & 2014. In 2015 and again in 2016, Onecom was named Vodafone's Total Communications Partner – the network's highest accolade. It is currently Vodafone UK's largest partner.
PR Archives: Latest, By Company, By Date