Frisco, Texas, June 22, 2015 – GENBAND, a leading developer of real time communications software solutions and recently named 2015 CNBC Disruptor 50, today announced that it has won the Gold in the "Transformational Customer Experience" category in the 2015 Gartner & 1to1 Media Customer Experience Award. Now in their 11th year, the awards aim to establish a standard of excellence for customer-focused organizations and honor those companies that provide value to customers and shareholders by effectively bringing together strategy, technology, and execution to deliver ideal customer experiences.
"Innovation drives our company at every level and taking the lead to become the customer-centric organization today's marketplace demands is no exception," said John McCready, EVP, Products and Corporate Development. "Our entire team came together with unwavering focus and commitment to this effort and our customers are responding positively. This award is a welcome validation of our hard work."
In order to deliver operational improvements to its customers, GENBAND re-engineered its signature customer support program, GENBANDCare. This company-wide undertaking, led by management, included establishing an operational excellence team, driving improvement via a balanced scorecard approach and building accountability across the entire organization. Transparency and reward measures were also implemented across the company in order to engage every employee in this demanding and rigorous process.
"I'm proud of our class of 2015 winners. For the first time, our winners have outlined clear-cut goals, the ability to achieve enterprise-wide buy-in and commitment, cross-departmental process changes, and tangible results. Most importantly, they've elevated their customer experience to meet consumer expectations," said Mila D'Antonio, editor-in-chief of 1to1 Media. "My hope is that organizations across all industries will take away at least one element from these winning initiatives to implement within their companies."
The results of GENBAND's operational transformation have translated into measurable outcomes, including the following: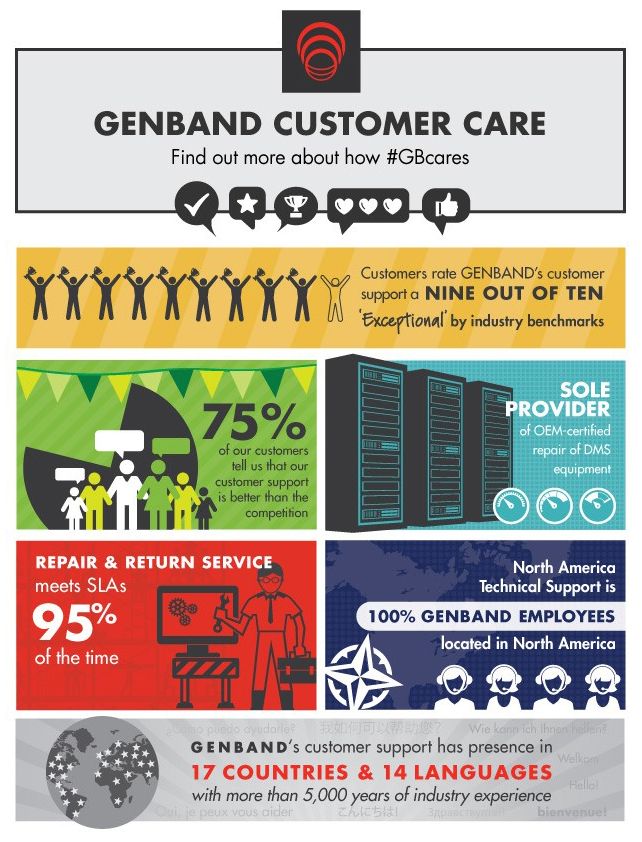 About GENBAND
GENBAND, a 2015 CNBC Disruptor 50, is a global leader in real time communications software solutions for service providers, enterprises, independent software vendors, systems integrators and developers in over 80 countries.  The company's Network Modernization, Unified Communications, Mobility and Embedded Communications solutions enable its customers to quickly capitalize on growing market segments and introduce differentiating products, applications and services. GENBAND's market-leading solutions, which are deployable in the network, on premise or through the cloud, help its customers connect people to each other and address the growing demands of today's consumers and businesses for real time communications wherever they happen to be. To learn more visit www.genband.com.
GENBAND, the GENBAND logo and icon are trademarks of GENBAND.
Company Contacts:
Dennis Watson
GENBAND US PR
+1.972.521.5921
Dennis.Watson@genband.com
Catherine Berthier
GENBAND International PR
+1.646.741.1974
Catherine.Berthier@genband.com
– See more at: http://www.genband.com/media-center/press-releases/genband-wins-gold-gartner-1to1-media-customer-experience-excellence#sthash.bAdXz8sO.dpuf
PR Archives: Latest, By Company, By Date