Hibernia Networks Video Platform now serves over 400 locations in 25 countries.
SUMMIT, NJ – April 8, 2014 – Hibernia Networks, a provider of global telecommunications services, announces today that it is extending its media contribution services to Sweden. This media network expansion will encompasses virtually every major city, broadcaster and sports venue in 40 cities and is scaled to service present as well as anticipated demand for years to come.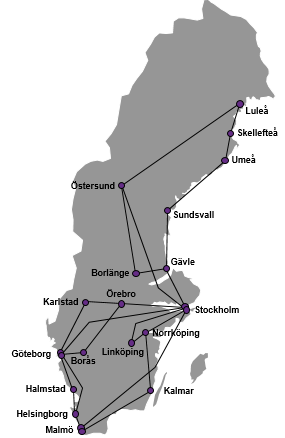 "With the growing global media market Hibernia Networks is well positioned to serve both the domestic demands in several key countries, now including Sweden, as well as critical international video transmission systems," states Bjarni Thorvardarson, the CEO of Hibernia Networks. "We look forward to expanding our 4K capable network throughout Sweden currently serving video and data signals to 40 stadiums and arenas that are now fully integrated to our global Video Solution platform."
The addition of the Swedish media network brings Hibernia Networks video services to more than 400 locations in 25 countries.
###
About Hibernia Networks:
Hibernia Networks owns and operates a global network connecting North America, Europe and Asia.
Hibernia offers over 190 network Points of Presence (PoPs) in 89 markets and 25 countries.
Hibernia Networks serves its global customer base, including wholesale, finance, media and high-bandwidth companies, with unparalleled support, flexibility and service. Hibernia provides secure and diverse dedicated Ethernet, DTM, Wavelengths and carrier-grade IP Transit services. As a true, end-to-end service provider, Hibernia also offers cloud connectivity, low latency connectivity and HiberniaCDN for seamless anytime, anywhere content delivery. Hibernia's media services are dedicated to flawless delivery of video signals over fiber, supporting dedicated and occasional broadcasts globally.
For more information on Hibernia's cutting-edge network and services, please visit www.hibernianetworks.com
For Hibernia Networks media inquiries, please contact:
Jaymie Scotto & Associates
+1.866.695.3629 ext. 5
pr@jaymiescotto.com
PR Archives: Latest, By Company, By Date