Amsterdam, Netherlands, 12 Oct, 2011: Huawei, a leading global information and communications technology (ICT) solutions provider, showcased a series of green energy solutions with high efficiency in ICT sector at the INTELEC 2011 conference. These solutions aim to address the challenges operators are facing in ICT energy sector and enhance their understanding of network energy.
As the only main sponsor of INTELEC 2011, Huawei has presented solutions for various scenarios, such as PowerCube solutions in off-grid areas which can save fuel by more than 50% with new technologies, and high-efficiency power solutions in stable grid areas which can effect considerable energy savings with the adoption of advanced technologies. These advanced solutions have attracted a lot of interest from operators.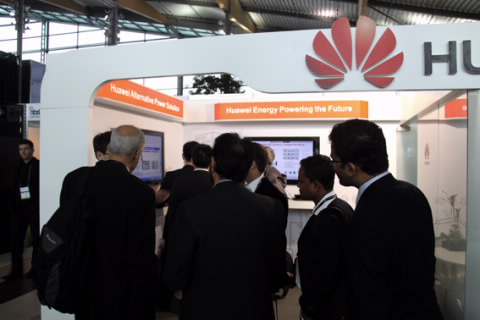 Meeting with customers at Huawei exhibition stand
Mr. Dick Vleeskruijer,Chairman of INTELEC 2011 Conference said: "high efficiency, high density and smart energy solutions will build a solid foundation for the transformation of the ICT industry. We expect Huawei, as a comprehensive ICT solution provider can work together with partners in telecommunication energy industry to develop better E2E solutions."
Chen Yue, vice President of Huawei Energy and Infrastructure Product Line, was invited to deliver the keynote speech in which he said-"Huawei has achieved high efficiency conversion & utilization of energy by integrating information control technologies in network and energy systems in the industry field, which paves a brand new road for energy saving and emission reduction in the ICT sector". His speech was highly appreciated by the experts attending the conference.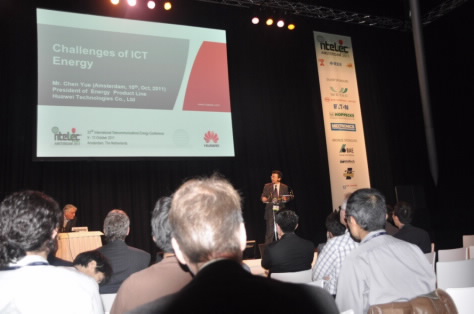 Chen Yue , vice President of Huawei Energy and Infrastructure Product Line
About INTELEC:
INTELEC is the most influential global conference in the telecommunication energy industry. The 33rd INTELEC conference is being held in Amsterdam during 9-13 October 2011. Huawei is the main sponsor and showcases its solutions on solar energy, generator evolution, as well as its internal and external power source solutions to share the innovative technical solutions and visions in the telecommunication energy industry.
About Huawei
Huawei is a leading global information and communications technology (ICT) solutions provider. Through our dedication to customer-centric innovation and strong partnerships, we have established end-to-end advantages in telecom networks, devices and cloud computing. We are committed to creating maximum value for telecom operators, enterprises and consumers by providing competitive solutions and services. Our products and solutions have been deployed in over 140 countries, serving more than one third of the world's population. For more information, visit Huawei online: www.huawei.com
Follow us on Twitter: www.twitter.com/huaweipress  and YouTube: http://www.youtube.com/user/HuaweiPress
PR Archives: Latest, By Company, By Date