Honor also features a 1.4 GHz processor and an 8-megapixel HDR-enabled camera
[Shenzhen, 26 September 2011]: Huawei today officially unveiled the Huawei Honor, its latest Android 2.3.5 Gingerbread smartphone that features a 16M 16:9 true color high-definition (HD) 4-inch FWVGA capacitive touch screen. Powered by a 1,900 MAh battery, Honor frees consumers from the inconvenience of searching for an electricity source, allowing them to share and connect for up to three days on a single charge – the longest battery life among smartphones in the 4-inch screen range. With a 1.4 GHz processor, an 8-megapixel HDR -enabled camera and a 2-megapixel front-facing camera, Honor is a powerhouse in a sleek 10.9 mm-thin body and weighs just 140g.
"Huawei Honor encapsulates the Huawei brand – it features simple-to-use, advanced technology that allows people to share and connect easily. Honor provides a package of features that elevates the smartphone user experience, including an ultra-long battery life, so critical to the performance of smartphones but yet is often downplayed," said Victor Xu, chief marketing officer of Huawei Device. "Consumers now have a high-performing smartphone that lets them communicate, connect, entertain and share content for an extended period of time without compromising on looks, technology or style."
Honor comes with an exclusive Huawei user interface which is easier to customize and manage, as well as a dynamic weather widget. Honor also features a Gyroscope which enables a better gaming experience. The smartphone is DLNA-certified which ensures interoperability with other DLNA-certified devices such as digital cameras, game consoles and TVs. This makes it easier for consumers to share their digital photos, music and videos between different DLNA-certified devices. The DLNA (Digital Living Network Alliance) is a non-profit organization with more than 250 member companies in the mobile, consumer electronics, PC, and service provider industries. According to ABI Research data, as of 2010, more than 440 million DLNA-certified devices have been installed in homes.
Honor will be commercially available in "Classic Black" in Asia-Pacific, China, Russia and the Middle East in Q4, 2011. Honor will be released in more colors closer to the Christmas holidays.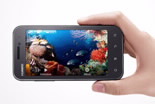 Honor also features a 1.4 GHz processor and an 8-megapixel HDR-enabled camera
PR Archives: Latest, By Company, By Date