[Shenzhen, China, 8, September 2011]: Huawei, a leading global information and communications technology (ICT) solutions provider, shared its vision for the future of supply chain management with six key customers and 350 senior executives from Huawei's its top 175 suppliers at the third annual Global Supplier Corporate Social Responsibility (CSR) Conference in Shenzhen, China. Huawei's Supplier CSR Management program seeks to change supplier behavior by enabling them to develop innovative solutions to issues and be proactive in driving CSR throughout their business and entire supply chain.
In 2010, Huawei made CSR a prerequisite for new suppliers and ensures compliance by conducting an annual CSR risk assessment and random CSR inspections of all its suppliers. Huawei asks suppliers to sign an agreement in which they commit to improving: labor standards, occupational safety and health standards, environmental standards, business ethics, CSR management system requirements, and sub-supplier management requirements.
"Huawei seeks to promote the sustainable development of the industry's supply chain and urges all members of the supply chain to understand the importance of sourcing with social accountability,"said Fredrick Spalcke, Chief Procurement Officer, Procurement Qualification Management Department, Huawei."In addition to helping promote CSR standards for the industry, Huawei will only do business with suppliers that choose to comply with global standards for ethical corporate governance and sustainable business practices. Let us not forget that following CSR is not only a legal requirement but also an obligation in making decisions in corporations to the societies in which we live as citizens."
The senior executives of Telenor, Deutsche Telekom, Vodafone , British Telecom and France Telecom introduced the global trends of CSR and their sustainable procurement strategies and suggested that all the members of telecommunication industry embed CSR into the business process. The customers representatives highly appreciated that Huawei has integrated CSR into their corporate strategy and procurement process.
This was echoed by Stein Hansen, Senior Vice President of Corporate Development and Head of Business Assurance, Telenor Norway "I thought the conference was very good. It shows that Huawei is taking a serious approach towards the follow-up of its supply chain – and the messages in the conference clearly demonstrate this towards the suppliers."
"This year's conference is focused on the ambitious goal of changing hearts and minds and on securing tangible commitments from our global suppliers,"said Benjamin Peng, Huawei Senior Vice President and President of Operation and Delivery . "Huawei continues to raise the bar on acceptable practices among it's suppliers and expects proactive action on these issues in order for our business relationship to continue."
Over the past two years, Huawei has assessed more than 1,300 suppliers and has made substantial progress in creating awareness and effecting change, which has led to improved working conditions for hundreds of thousands of workers around the world.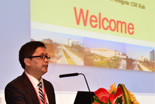 Benjamin Peng, Huawei Senior Vice President and President of Operation and Delivery
PR Archives: Latest, By Company, By Date