Vilnius, Lithuania, 19 September, 2011: Huawei, a leading global information and communications technology (ICT) solutions provider, today announced the successful deployment of a commercial 1800MHz LTE network for Omnitel, one of the largest telecommunication companies in the Baltic region, to serve the 2011 European Basketball Championship (EuroBasket 2011), which took place from August 31—September 18 in six cities across Lithuania.
Omnitel had long been planning an upgrade to its existing network in order to meet increasing data demands, and in May, Huawei was exclusively awarded the Omnitel contract for LTE deployment and GSM/UMTS radio access networks expansion across all of Lithuania.
At EuroBasket2011, Huawei provided Omnitel with its world-leading SingleRAN LTE solution as well as with radio access and transmission networks. As a result, the LTE network was able to achieve downlink speeds of 85Mb/s, making it the fastest mobile broadband network in Lithuania.
Over the course of the entire basketball tournament, the performance of the LTE network was stable, affirming Omnitel's strength as a provider in the mobile broadband market. The excellent performance of the LTE network during EuroBasket 2011 is an important step in the commercialization process of the Baltic region's mobile broadband network.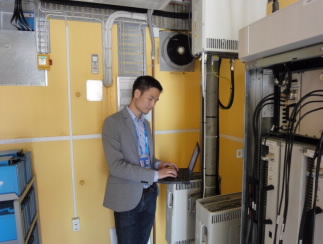 Huawei engineer testing network performance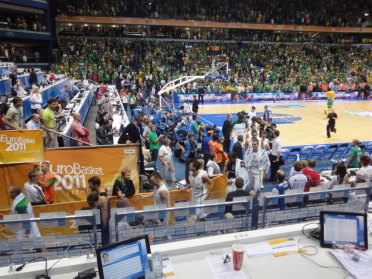 EuroBasket 2011, Live
Antanas Zabulis, president of Omnitel, said, "The men's European Basketball Championship was a great opportunity to introduce Lithuania to the world. LTE technology is at the forefront of wireless communication technology and by providing the basketball arenas and journalists with LTE, we proved that Lithuania is a modern country using the most cutting-edge technologies."
Ying Weimin, president of GSM/UMTS/LTE product line, Huawei, said, "It has been our pleasure to work with Omnitel to ensure optimal performance of the LTE commercial network. During the basketball tournament, the performance of Huawei's SingleRAN LTE solution affirmed our ability to offer operators commercialized LTE TDD network solutions in this, the mobile broadband era."
About Omnitel
Omnitel is one of the largest telecommunication companies in the Baltics, member of TeliaSonera group. It provides services of carrying and packaging of voice , images, data, information , transaction and entertainment.
Omnitel has over 1 million customers and more than one third of the mobile revenue market in Lithuania. It was the first network operator in Lithuania to launch GSM services(in 1995) and one of the first companies in Europe having introduced packet data transfer technology GPRS(General Packet Radio Service) in its network. Omnitel , the first in Lithuania to start the commercial 3G services in 2006, which was followed by the highest speed mobile internet HSDPA.
About Huawei
Huawei is a leading global information and communications technology (ICT) solutions provider. Through our dedication to customer-centric innovation and strong partnerships, we have established end-to-end advantages in telecom networks, devices and cloud computing. We are committed to creating maximum value for telecom operators, enterprises and consumers by providing competitive solutions and services. Our products and solutions have been deployed in over 140 countries, serving more than one third of the world's population. For more information, visit Huawei online: www.huawei.com
Follow us on Twitter: www.twitter.com/huaweipress  and YouTube: http://www.youtube.com/user/HuaweiPress
PR Archives: Latest, By Company, By Date