Shenzhen, China, 30 Sep, 2011: Huawei, a leading global information and communications technology (ICT) solutions provider, and the Subscriber Profile User Group (SPUG), a leading subscriber data management (SDM) industry group, jointly hosted the second annual SDM & Policy Control Seminar 2011 on September 14-15 in Xi'an, China.
The theme of this year's seminar was "Utilize SDM and Policy Control to Generate Revenue," and over 120 delegates from more than 30 leading global telecom operators attended and shared their perspectives, strategies, and best practices.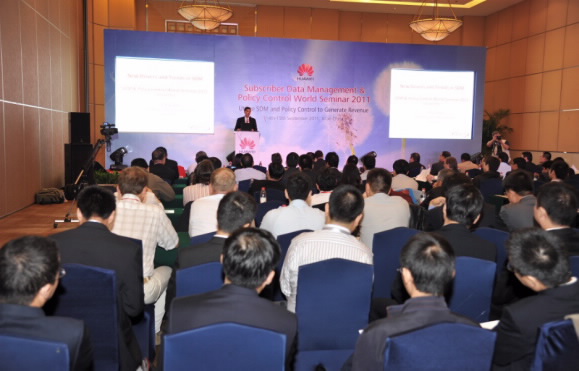 SPUG presented its own insights on how best to provide personalized services using the emerging industry trends of multi-sided business models, social networking, machine-to-machine, cloud services, and targeted marketing. Industry research partner Heavy Reading as well as Works Systems, a key device management vendor, also provided their insights on these industry trends.
Participants at the SDM & Policy Control Seminar 2011 on September 14-15 in Xi'an, China

Eleven industry players, including Telefónica, China Mobile, Telkomsel, TrueMove, SPUG, and Works Systems, made keynote presentations covering current hot industry topics. In addition, Huawei introduced its vision and shared its ideas on subscriber intelligence, a key prerequisite for SDM development.
Huawei also presented its state of the art service demos to the audience. These various demos illustrated how Huawei's SDM solution, SingleSDB, is able to open subscriber data to third parties in order to better push the target service. In order to better demonstrate the capabilities of its SDM solution, Huawei invited the audience to visit its SingleSDB reference site, which was established by Shaanxi Mobile in 2010.
Other new SDM demos included Wi-Fi offload, unified identification, and LTE smooth evolution. Additionally, with regard to the policy and charging rules function (PCRF), Huawei also showcased its GUP, VIP, walled-garden service, push, and other value-added services.
"We had a successful event with top-notch presentations at a great venue in Xi'an," said Dr. Ray Barghi, chairman of SPUG. "SPUG was able to share its thoughts on how best to move from the consolidation phase to that of revenue generation by identifying the various parts of the SDM ecosystem, engaging the various stakeholders, and utilizing personalized service use cases in order to better achieve seamless customer experiences. By providing external third parties with open and secure access to subscriber profile data, subscribers are in turn able to enjoy value added services while enjoying high levels of privacy."
"Following last year's successful seminar in Shanghai, we were happy to collaborate with SPUG, Works Systems, and Heavy Reading once again this year," said Mr. Stone Wang, President of SingleSDB, Huawei. "With a large number of attendees from a wide range of industry players, this seminar offered beneficial networking opportunities and will no doubt enable the industry ecosystem to strengthen through the various connections that were made in Xi'an this year. We are excited about the future of this seminar series, and I am excited to announce that next year's edition will take place in Europe. We hope to see everyone there."
PR Archives: Latest, By Company, By Date