[Shenzhen, China, 26 August, 2011:]: Huawei, a leading global information and communications technology (ICT) solutions provider, and China Telecom, the largest telecom operator in China, today announced that their joint efforts in optimizing Shenzhen,s CDMA network during the recent 2011 Summer Universiade resulted in significant developments in digital trunking communications service with Qchat. In telecommunications, trunking refers to the grouping of connection switches and circuits within an exchange. It enables the services provider to use fewer circuits since users are able to share connections.
During the Universiade, Huawei deployed its QChat Push-to-Talk service, which is based on the CDMA2000 EV-DO network and was used by consumers equipped with China Telecom,s Tianyi brand devices. Among other things, these devices were used by the official traffic committee to provide and monitor traffic services during the games for 20,000 people and 2,000 cars. Traffic logistics involved communication between seven control centers and six service teams spread across 126 different parking areas. Under this unprecedented usage, and with pressure from increased digital trunking traffic, the performance measurements of Shenzhen,s CDMA2000 EV-DO network maintained maximum stability and the overall success rate of fixed trunking communications was 100 percent. This large-scale application of QChat affirms the high performance of China Telecom,s Tianyi digital trunking system, which outclasses other trunking systems with its wide coverage, flexible devices, high-quality signal, unlimited communication distance, and open industry chain.
"China Telecom and Huawei utilized their joint resources to provide unrivalled services during the 26th Summer Universiade in Shenzhen," said Li Linmei, general manager of government and enterprise customers department, Shenzhen branch of China Telecom. "We are happy to have observed that our digital trunking system is stable and reliable, and we hope to continue working together with Huawei to further accelerate the development of digital trunking communications."
"We first unveiled QChat during the 2011 Xi,an Garden Expo, and we are happy to have worked together again with China Telecom at the 2011 Summer Universiade to provide digital trunking services,"said Wu Hui, president of CDMA/LTE, Huawei. "The successful application of QChat at the Universiade demonstrates once again that Huawei,s CDMA networks are able to perform at world-class events and under heavy usage. We will continue to work together with operators in China and around the world on the further development of digital trunking communications."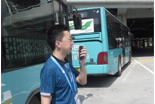 Worker to Monitor Traffic Service with Tianyi Device
PR Archives: Latest, By Company, By Date