[Munich Germany, 12 May, 2011] Telefonica and Huawei established the joint Service Innovation Center (SIC) in Germany, which is the branch of Telefonica global SIC, with the objective of extending new services and exploring future propositions. There were more than 30 people attended this event.
"As a very important strategy partner of Telefonica, Huawei has been very active in application and service innovation, and has already deployed strategic service platforms for Telefonica around the world." said Ms. Andrea Folgueiras, the CTO of Telefonica Germany. "SIC, as a part of strategy cooperation of both companies, is going to build potential new services on already deployed platforms, where functions/services can be inherited. With the full support from Huawei and 3rd party partners, we are confident to reduce our time-to-market and to be more flexible for future service offerings. "
"Telefonica is one of the most important strategy partners of Huawei. We have already deployed SDP and NGIN service platform together in Telecom software area. With this joint innovation center, we will be able to better understand Telefonica service strategies and market requirements, also to introduce Huawei's global successful experience to Telefonica" said Mr. Guo Haiwei, the VP of Telefonica Key Account, Huawei. " The showcases today are the first achievement of our joint efforts. They also reveal SIC as an incubation platform for future innovations. It is our pleasure to take part in the progress of Telefonica service innovation and transformation. I believe that it will be a win-win business for both companies."
During the opening ceremony, four showcases over NGIN and SDP platforms were introduced, namely FUN (FMC Unified Number) service, NTS (Number Translation Service), DSM (Digital Shopping Mall) and Service Innovation Environment. Innovation experiences of TLATAM and China Mobile were also shared and discussed as future innovation mode. As a "playground" for all parties on the service innovation chain, the SIC allows "Beta" services to be provided to end users directly. It is expected to be an important part of Telefonca's transformation.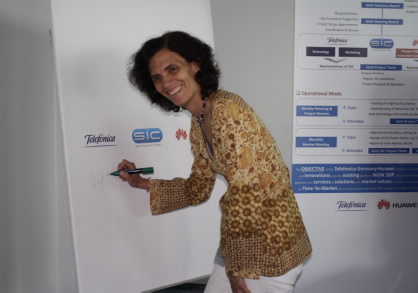 Ms. Andrea Folgueiras, CTO of Telefonica Germany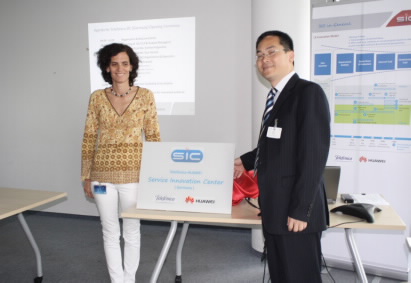 From left to right: Ms. Andrea Folgueiras, CTO of Telefonica Germany ;
Guo Haiwei, Vice President of Telefonica Key Account, Huawei
PR Archives: Latest, By Company, By Date