[Dublin, Ireland, 26 May, 2011] Huawei, a leading telecom solutions provider, today announced that it was awarded the Industry Leadership Award for its New Generation Business Support System (NGBSS solution) at the TM Forum Management World event in Dublin, Ireland.
TM Forum's Excellence Awards were established in 2007 to recognize and acknowledge the contributions of global leaders in the telecom operation and management industry. The Industry Leadership Award is given to a TM Forum member company that demonstrates leadership, dedication, and commitment to the Forum's collaboration activities, and the uptake of TM Forum standards and best practices.
Dr. Che Haiping , Vice President and CTO of Carrier Software Business Unit, Huawei, said, "We are very honored to be the recipient of TM Forum's Industry Leadership Award this year. It is a recognition of Huawei's continuous leadership, dedication, and commitment to the ICT industry. Since our inception in 1988, Huawei has made continual efforts to lead the industry by engaging in collaborative activities and by fostering a participatory atmosphere with other industry players. We look forward to working closely with TM Forum members and with the industry to help our customers achieve business success with our world-class BSS & OSS solutions."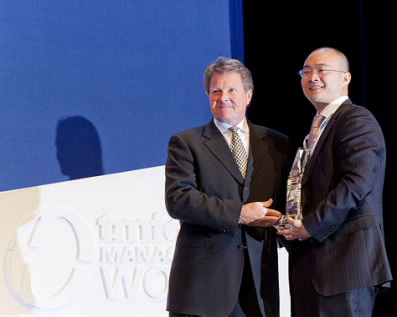 From left to right: Chair of the judging panel, Mr. Colin Orviss, Founding Partner of Parhelion Global Communications Advisors; Dr. Che Haiping, VP & CTO Of carrier software business unit, Huawei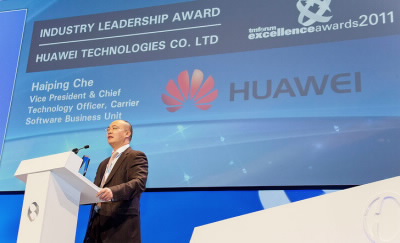 Dr. Che Haiping , VP & CTO Of carrier software business unit,Huawei
About TM Forum
TM Forum is a global industry association focused on simplifying the complexity of running a service provider's business. As an established industry thought-leader, the Forum serves as a unifying force, enabling more than 775 companies across 195 countries to solve critical business issues through access to a wealth of knowledge, intellectual capital and standards.
The Forum provides a unique, fair and safe environment for the entire value-chain to collaborate on pressing industry issues, helping companies of all sizes gain a competitive edge and the flexibility and speed they need to underpin future growth.
For more information about TM Forum, visit: http://www.tmforum.org
About Huawei NGBSS Solution
Huawei NGBSS solution is designed based on simple, open, convergent, agile and smart philosophies and is in alignment with TM Forum frameworks and best practices. It provides end-to-end BSS solutions, including products and business consultant service, system integration, managed service for CSPs in the field of revenue management, customer management, product management, customer service and insight, customer value improvements to support improved revenue and profit, operation efficiency, customer experience, and pillar CSPs in order to achieve a principle of "Smart Operation, Efficient Support" as well as sustained business success.
For more information, please visit: http://www.huawei.com/en/solutions/increase-revenue/hw-001251.htm
PR Archives: Latest, By Company, By Date