[London, U.K., 25 March, 2011] Huawei, a leader in providing next-generation telecommunications network solutions for operators around the globe, was presented the "Best Service Delivery Platform for IPTV" award at the IP&TV World Forum 2011 in London, hosted by Informa Telecoms & Media.
"Judged by a prestigious panel of cable and telecom operators and independent experts, the standard of entries was extremely high and the judges were faced with difficult decisions on selecting this year's winners. I'd particularly like to congratulate Huawei on winning the Best Service Delivery Platform for IPTV Award," said by Gavin Whitechurch, Director of the IP&TV World Forum.
"This award recognizes Huawei's outstanding performance and growth in the area of IPTV and demonstrates Huawei's unwavering commitment to deliver valuable and innovative services to customers," said Lance Lin, Vice President of Huawei Software. "As a market leader, Huawei is always committed to providing the most comprehensive end-to-end IPTV solutions and innovative services that help operators to create new revenue streams, while addressing customer demands for personalized media content."
Huawei's IPTV service delivery platform offers a future-oriented open platform based on a service-oriented architecture(SOA), which enables operators to build a digital entertainment cloud and facilitate service innovation by combining video (IPTV, VOD, PVR, etc.), communication (voice, video, IM, etc.) and interactive multimedia services (games, SMS, online shopping, etc.).
To date, Huawei's IPTV service serves 37 operators around the world with a system capacity of over 6,690,000 subscribers.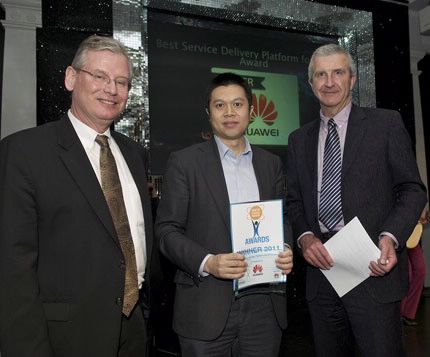 Left: Steven C. Hawley, Principal Analyst & Consultant, Advanced Media Strategies LLC
Middle: Lance Lin, Vice President, Huawei Software
Right: Award presenter
About the IPTV World Forum
The IPTV World Forum is the world's leading event on Hybrid, IP & Connected TV. It comprises of a 3 day, multi-stream conference programme featuring over 170 expert speakers from over 30 countries, including 101 content & service providers. The event also features a 3 day exhibition which boasts the latest market offerings and solutions for leading companies in the IPTV industry.
Now in its 6th year, the IPTV World Forum has evolved with the industry to reflect the central issues of hybrid broadcast solution and broadband TV business models.
PR Archives: Latest, By Company, By Date