Barcelona, Spain, 17 February, 2011] Etisalat, Middle East and Africa's leading telecom operator, and Huawei, a leader in providing next-generation telecommunications network solutions for operators around the world, today announced the signing of a commercial LTE contract to commence deployment of the region's widest LTE network in the UAE. Mr. Nasser bin Obood Acting/CEO Etisalat UAE, and Mr Yi Xiang, President for Huawei Middle East, witnessed the signing ceremony at the Etisalat-Huawei Summit 2011 in Barcelona, Spain.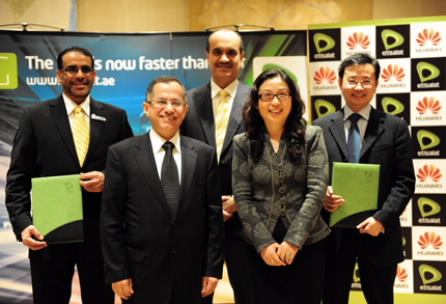 The advanced LTE technology, which has already been tested and deployed on the Etisalat network, enables the existing network to reach a download speed of 173 Mbps. LTE can accommodate multimedia applications such as video conferencing, high definition content transmission, high speed video downloads and social networks, giving Etisalat's customers unbeatable mobile broadband.
Commenting on the occasion, Mr. Nasser bin Obood, A/CEO Etisalat, said: "Etisalat has established a reputation of a telecom service provider that is continuously innovating and identifying new ways for providing customers an unparalleled telecommunication experience, touching every sphere of their lives. Maintaining our leadership in the wireless broadband market, we are proud to be the Middle East's first and widest LTE network in the UAE."
Mr. Marwan Zawaydeh, Chief Technology & Information Officer, at Etisalat, commented: "In line with Etisalat's commitment to elevate our customers' broadband experience in the UAE, we are pleased to have selected Huawei as the strategic partner to build the new nationwide LTE network. The advanced technology will deliver a better surfing experience, higher resolution on streamed mobile content and improved interactivity along with other wireless applications which require high bandwidth requirements."
"Etisalat is our key strategic partner and it is our honor to continuously support and deliver in line with their vision and objectives. Since 2003, Etisalat and Huawei have worked together to accomplish Etisalat's vision of enriching people's lives with superior communication services," said Mr. Yi Xiang, President for Huawei Middle East. "With our advanced SingleRAN LTE based solutions, Huawei is dedicated to partner with Etisalat in its endeavors to introduce innovative services in the UAE and international markets in which it operates."
PR Archives: Latest, By Company, By Date